Welcome New SSA Board Members
Please join us in welcoming four new members to the SSA Board of Directors.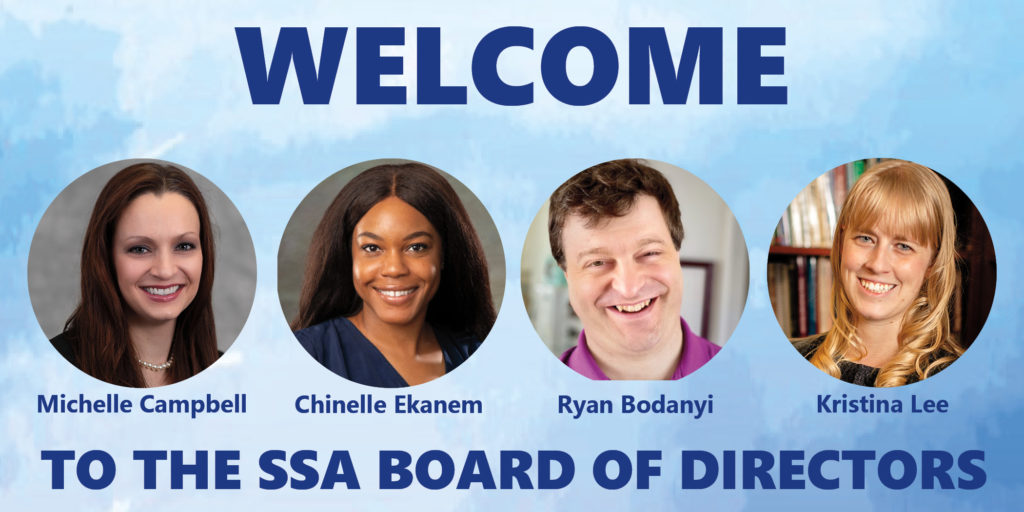 Michelle Campbell has 17 years of experience working in education and the non-profit sector. She currently serves as the Vice President for Institutional Advancement and Middlesex College in New Jersey. As Vice President, Michelle leads a comprehensive institutional advancement division that includes oversight of the College's two urban satellite centers located in New Brunswick and Perth Amboy, workforce development and lifelong learning, the Middlesex College Foundation, alumni relations, marketing, communications, government relations, grants, media services, the College's print shop, the Middlesex College Early Learning Center, and events management and conference services. Prior to joining Middlesex College, Michelle served as Executive Director of Institutional Advancement at Renton Technical College in Washington State. While at RTC, she led the development of the College's first five-year strategic plan in 10 years. Michelle holds a doctorate in education in higher education administration from Northeastern University, a master's degree in organizational communication and management from the University of Waikato, and a bachelor's degree in mass communications from Minnesota State University. Michelle is passionate about education and serving the community, and currently serves on several local and national boards.
Chinelle Ekanem is a Nigerian-American Attorney with a passion for marginalized community advocacy. Chinelle works as the Assistant Corporate Counsel for Melwood, a nonprofit that advocates for and empowers individuals with disabilities to transform their lives through unique employment opportunities, job training, life skill improvement, and recreational services in the Washington D.C. area. Chinelle has a B.A. in Political Science and focused her studies on international relations (Virginia Commonwealth University), as well as a J.D. with a focus on Business Law and Civil Rights (New England Law). Chinelle has a wide range of professional experience in the public and nonprofit sectors, and has been committed to creating change in her community through grassroots organizing and volunteering with local nonprofits. In her free time, Chinelle enjoys mentoring underrepresented college students, psychology, yoga, and exploring other cultures through cooking and music.
Ryan Bodanyi's career spans research and advocacy, primarily in the environmental movement. He holds a Ph.D. and MS degrees from the University of Washington, where his research explored what cities and counties in the US are doing to mitigate their greenhouse gas emissions, and how those efforts influence local finance. He's built campaigns for the National Wildlife Federation, Clean Water Action, and the Clean Air Task Force. And he founded a non-profit to advocate for the half-million survivors of the 1984 chemical disaster in Bhopal, India, which he led for five years. He currently works with the Climate & Energy team at CivicWell. When Ryan isn't trying to save the world – how's he doing so far? – he enjoys the company of his houseplants, to which he coos unselfconsciously. He also loves long bike rides, building community, and justice, not necessarily in that order.
Kristina M. Lee is currently completing her Ph.D. in Communication Studies at Colorado State University and will be starting as an Assistant Professor at the University of South Dakota in the fall of 2022. Her research focuses on the intersections of religious and political rhetoric with a particular focus on secular rhetorical criticism, Christian nationalism, and the marginalization of atheists. Her award-winning work on "theistnormativity" focuses on and challenges how political discourses, rituals, and symbols normalize a connection between good citizenship and belief in God in the United States. She is passionate about promoting productive interfaith dialogues and civic engagement.