Announcing the Appointment of New SSA Board Members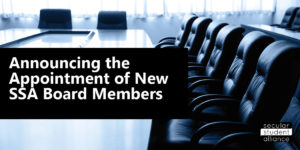 The Secular Student Alliance Announces the Appointment of New Board Members
The Secular Student Alliance (SSA) announced today the appointment of seven new members to its Board of Directors: Clinton Herndon (student member), Lishore Kumar (student member), Michael Bills, Olivia Fines, Ron Zakay, Stephanie McGreevy, and Wilds Ross. Andrew Seidel also joins SSA as a member of the Advocacy Committee. 
Elected at the April Board meeting, these members will begin serving this month and will join the full Board along with SSA staff and SSA students from around the country for the annual SSA Conference this summer, which is being held in St. Louis on June 16-18. They join current board members Harry Shaughnessy (Chair), Ryan Bodanyi (Vice Chair), Shanti Priya (Treasurer), Jennie Frishtick (Secretary), Kristina Lee, Chinelle Ekanem, and Paul Reed; and Advocacy Committee members Sasha Sagan, Anjan Chakravartty, Rev. Barry Lynn, and Elizabeth Reiner Platt. 
"We're so excited to welcome these seven new board members who we know will be great additions to the SSA Board," said Harry Shaughnessy, Board Chair. "Our Nominations Committee has done a fantastic job to bring a diverse group of individuals to our board with expertise in higher education, organizational strategy, compliance and law, entrepreneurship, and technology. We're so glad to have them joining us in our work."
"We continue to see a growing number of nonreligious students and young people in the United States," said Kevin Bolling, Secular Student Alliance Executive Director. "The new board members bring a wealth of experience and a unique perspective on the work we do at SSA to support nontheistic students in schools and on campuses across the country."
The Secular Student Alliance is welcoming the following board members:
Lishore Kumar is a high schooler from Tomball, Texas. Lishore is also a 2023 United States Youth Ambassador. Selected as one of 12 students by the U.S. Department of State, he represented his country on a tour of Latin America, where he met with national diplomats, politicians, and families to discuss how community initiatives are brought about. Lishore works as a student researcher at the Baylor College of Medicine and has had a paper published in the Harvard Medical Journal. Lishore was a recipient of the SSA's Secular Activist scholarship in 2022. 
Clinton Herndon is a military veteran and a current student at Georgia Southern University, where he is pursuing a degree in Computer Science and serves as the president of the SSA chapter. Prior to joining the military, Clinton worked at Lockheed Martin in Orlando, Florida, where he developed a deep commitment to promoting diversity and inclusivity in and outside of the workplace.
Ron Zakay is a passionate DEI advocate and a serial entrepreneur with two decades of leading, and co-founding, several early-stage startups, as well as mentoring dozens of others. His areas of focus include automation, BI, startups, and venture ecosystems. Ron often speaks as a specialist, judge, and panelist in angel groups, accelerators, and incubators. He is based in San Francisco. 
Olivia Fines is an Ethics and Compliance Attorney with a passion for social justice reform and education on privilege and prejudice. Olivia received her BA in Political Science from Virginia Tech, her masters program in Government Procurement from the University of Virginia, and her law degree with a specialization in International Business Law from George Mason University School of Law.
Dr. Mike Bills has been a successful entrepreneur and has served as CEO/President in a broad set of industries, where he has founded and built growing businesses and led successful turnaround opportunities and sales. Mike currently serves as President of AtlasRTX. Mike is a graduate of Westminster College in Salt Lake City where he continues to serve on the board of trustees and currently chairs the Diversity, Equity, and Inclusion committee. He completed his Ph.D. at Antioch University Graduate School of Leadership and Change where his research focused on higher education governance and leadership.  
Wilds Ross is a renowned expert in the field of data science, analytics, and machine learning, with a track record of success in helping organizations harness the power of data to drive strategic decision-making. Over his twenty-five years of experience, he has worked with some of the leading companies in the technology and consulting sectors. He currently serves in an advisory capacity for several strategy, consulting, and technology businesses around the world.
Stephanie McGreevy studied Biology at Cal Poly San Luis Obispo and has worked for over 20 years opening new markets in the renewable energy sector. She is an energy market specialist with over 10 years owning and managing a retail commodities brokerage managing company-wide, heavily regulated internal controls and compliance programs with accountability for auditing processes and regulatory proceedings.
Andrew Seidel, a new member of SSA's Advocacy Committee, is Vice President of Strategic Communications for AU, an author, and an attorney who has defended the First Amendment for more than a decade. Andrew is the author of two books: The Founding Myth: Why Christian Nationalism Is Un-American (2019) and American Crusade: How the Supreme Court is Weaponizing Religious Freedom (2022). A Senior Correspondent at Religion Dispatches, Andrew is a prolific author of opeds, has written several scholarly articles, has debated the utility of the Johnson Amendment, and organized and contributed to the groundbreaking report, "Christian Nationalism at the January 6, 2021, Insurrection," which was published by the Baptist Joint Committee and the Freedom From Religion Foundation and aroused congressional interest. He's appeared on Fox News to debate Bill O'Reilly, MSNBC, and hundreds of other media outlets. Andrew graduated cum laude from Tulane University ('04) with a B.S. in neuroscience and environmental science and magna cum laude from Tulane University Law School ('09), where he was awarded the Haber J. McCarthy Award for excellence in environmental law. After a short stint in private practice, Andrew joined the Freedom From Religion Foundation as a constitutional attorney and later Director of Strategic Response, running a nimble unit known as the Strategic Response Team and helping elevate that organization's profile. He joined AU in March of 2022.
About the Secular Student Alliance
The Secular Student Alliance is a 501(c)(3) nonprofit and the only national organization dedicated to atheist, humanist, and other non-theist students. SSA empowers secular students to proudly express their identity, build welcoming communities, promote secular values, and set a course for lifelong activism.