2022 Student Activist Scholarship Recipients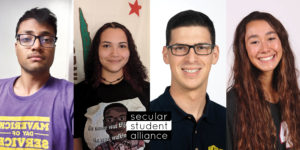 We are pleased to introduce our 2022 student activist scholarship recipients.
This year's scholarship recipients exemplify the mission of the Secular Student Alliance by proudly expressing their secular identities, building welcoming and inclusive communities, and promoting strong secular values. We know they will continue to enrich our society through their activism.
Please learn more about our scholarship recipients.