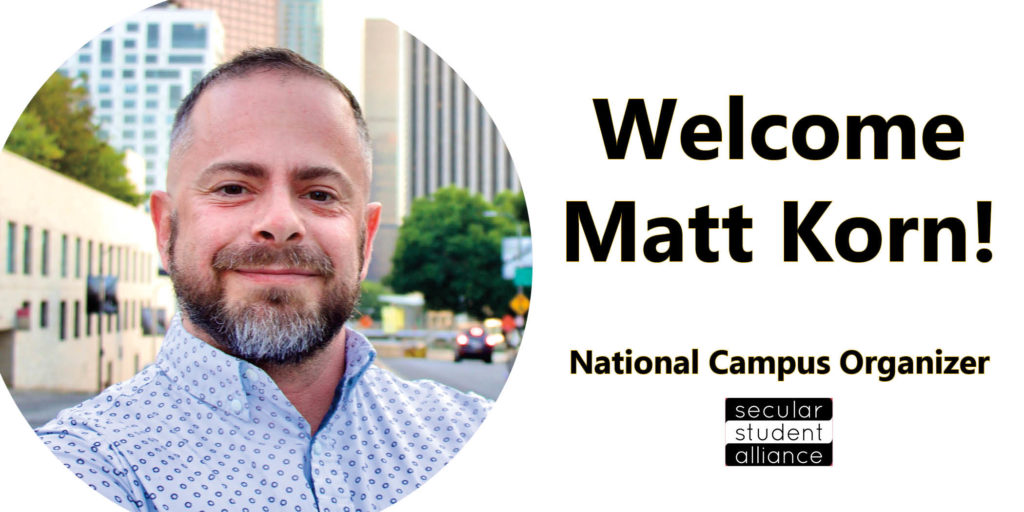 Matthew Korn is the new national organizing manager for the Secular Student Alliance.
Born in Colorado and raised in St. Louis, Matt was a resident of Austin, Texas for over 20 years before recently moving to Los Angeles. During his time in Austin, Matt was an activist in a variety of movements, including anti-death penalty, anti-war, queer rights, gender equality, and union solidarity organizing.
After earning his BA in Anthropology from Texas State University in San Marcos, Matt helped co-found Queerbomb Austin, an alternative and fiercely inclusive annual queer pride event. Following the 2016 election, Matt helped to organize solidarity events to show broad support for Austin's Muslim community. He also co-founded Austin LGBT for Black Lives in the wake of the police murder of George Floyd in 2020. More recently Matt has worked on electoral campaigns in central Texas, helping to support progressive candidates at the city, county, and state levels. He also served as Campaign Manager for Austin is Safer When, a project to reallocate funds away from the Austin Police Department and toward alternative public safety projects and supportive housing for houseless folks.
Matt is excited to now call Los Angeles home and lives there with his partner Wyatt and their two adorable fur babies, Becca and Hansel.