SSA Students Mobilize Voters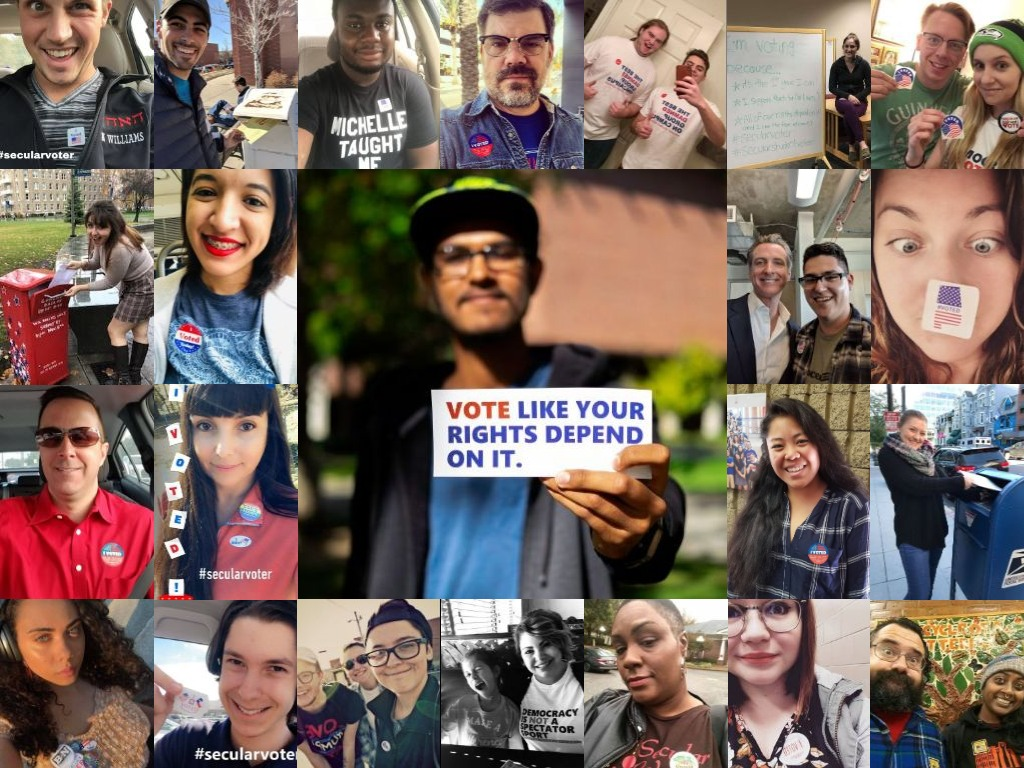 Secular Student Alliance chapters in states across the country registered voters ahead of the 2018 midterm elections as part of a wave of new, younger voters that erupted onto the scene this year. It's still too early to say exactly how many young adults turned out to vote but according to CIRCLE at the Tufts University Tisch College, "roughly 31% of youth (ages 18-29) turned out to vote in the 2018 midterms, an extraordinary increase over our estimate in 2014, when our day-after exit poll calculation suggested that 21% of eligible young voters went to the polls."
SSA was a lead partner in the Secular America Votes initiative to register secular voters. Student leaders worked with state experts to help register the vitally important young adult population on college campuses, many of whom had the opportunity to vote for the first time in their lives. By engaging college students, SSA hopes to give them the tools and confidence to be civically involved throughout their lifetime.
"We're in a bit of a chaotic situation right now as far as politics go and we feel students especially need to have their voices heard and vote like their rights depend on it!" —Asia Jackson, President at the Atheists, Skeptics, and Humanists at University of Texas at Dallas
Students leaders like Asia understand the importance of voting and that our democracy isn't a spectator sport, which is why SSA student leaders in various swing states organized voter registration drives. Student leaders at MIT used their voter registration drive to not only register students, but also as a chance to engage in thought provoking discussions about about important issues.
"We ended up also raising awareness and talking about local and national secular law issues that students weren't aware about." —Sohan Dsouza, President of the Secular Society at MIT.
Engaging busy and nomadic students in the election process can be challenging so we're proud of all of SSA student leaders for taking the time to register hundreds of students on their campus! Students have always been at the forefront of change and political reform in this country and we are excited to see how our student leaders both led their campuses in registering voters and also helping get out the vote.
SSA students were very active reminding their communities of the reasons to vote and that voting is only the beginning of our civic responsibility. Humanist Student Fellowship president at University of Montana Missoula, Joe Hudelson, expressed some insight about the results of the election saying, "This election belongs to the disenfranchised, people of color, women, and young voters who pushed for change." While we continue to take in the results from election day, Hudelson emphasized that politicians "need to learn that if we want to have a stable, tolerant society, we cannot tolerate the intolerance and violence from the right wing, and we must retain the right to treat their ideologies differently."
One result of this midterm election, however, was the power of women taking on Congress. From the youngest Democratic woman to the first Native American woman and all the women elected for the very first time in their states along with our first progressive female atheist, Megan Hunt, women across the country are reshaping our political landscape! The Secular Student Alliance is looking forward to each of these women making a difference and showcasing how to break the glass ceiling that women face everyday.