SSA's Statement on Accusations Regarding David Silverman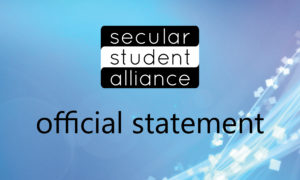 As executive director of the Secular Student Alliance, I am shocked and angry to hear about the accusations of sexual assault by David Silverman against a member of the Secular Student Alliance in 2012 and other women.
The staff and members of the Board of Directors of the Secular Student Alliance fully support the courageous and brave women and men who have come forward to tell their own stories and support and share witness to those who have been deeply affected.
SSA will not tolerate harassment or assault of any form, including conduct of a sexual or improper nature. I and the Secular Student Alliance are committed to creating an environment free from all forms of coercion and harassment that adversely affect the lives of anyone in our community. This commitment includes the prevention and, where it occurs, the punishment of sexual harassment, as well as harassment on the basis of sexual orientation, gender identity, and gender expression.
Our policy on sexual harassment is clear and explicit; sexual harassment or misconduct in any form is unacceptable, and it will not be tolerated within the organization and at our meetings, events and conferences. Further, the Secular Student Alliance prohibits retaliation against any individual who makes a good-faith complaint of sexual harassment or who participates in a sexual harassment investigation.
We will be committed to educational efforts to address the issue of sexual harassment on campus and in our community. Eradicating sexual harassment and fostering a respectful environment requires a continuing commitment from all members of the community.
I will be personally reaching out to those who have come forward with accounts of harassment. In that regard, I express my deepest apology to any student or member of the larger SSA community who has ever been a victim of sexual harassment or assault.
The Secular Student Alliance is dedicated to providing a harassment-free experience for everyone, regardless of race, color, national origin, age, creed, worldview, disability, veteran status, sex, sexual orientation, gender identity, or gender expression.
Despite how much I want to be able to, I cannot change what happened in the past. While I have only been with the organization for nearly a year, one of my top priorities will be to create an environment where our students are protected and free from harassment or assault of any form. If you have questions about SSA's policy on harassment, please feel free to contact me directly.
Kevin Bolling
Executive Director
Secular Student Alliance