SSA Freethought Backbone Awardee and Atheist Icon, Bobby Kirkhart Died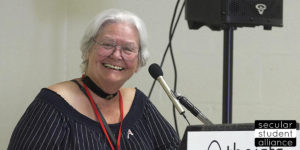 Bobbie Kirkhart died on October 31, 2021, in her home in Los Angeles, CA. She was 78 years old.
For nearly four decades, Bobbie was a fixture in atheist movement building. She served as President of both Atheist Alliance International and Atheists United, served on the board of Camp Quest and the advisory board for Humanist Association of Nepal, helped form the Secular Coalition for America, and was an informal advisor and mentor to dozens of freethought leaders.
In 2013, the Secular Student Alliance gave Bobbie the Freethought Backbone Award, to recognize a lifetime of service and secular activism.
In 2009, she purchased and opened up her century-old Victorian home, known as Heretic House, to speakers and local groups, giving atheists and progressive organizers a dependable and rent-free meeting space. Hundreds of fundraisers, parties, choir rehearsals, jam-sessions, board retreats, recovery meetings, and volunteer events have called Heretic House home over the last decade while dozens of well-known speakers and activists have crashed for a few nights at a time.
Let us all take time to celebrate the life of Bobbie Kirkhart, remember her numerous accomplishments, and recognize the amazing legacy she leaves on the secular movement. Bobbie was a trailblazing woman who "got stuff done," an intergenerational activist at the local, national and international level, and a mentor for so many in the secular movement. I am honored to have spent time with Bobbie and the special environment she created at the Heretic House to promote and advance the positive values of humanity. Through the Secular Student Alliance, we hope to amplify the small acts of our students – as Bobbie would say "for these are the acts that change the world."

– Kevin Bolling, Executive Director of the Secular Student Alliance
If you'd like to make a donation in Bobbie's honor, the family recommended three charities that were deeply close to Bobbie's heart: the Secular Student Alliance, Camp Quest, and Atheist United.