Now Hiring: Development Associate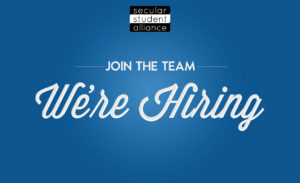 The Secular Student Alliance is currently seeking a full-time Development Associate.
This position will be responsible for assisting the Executive Director and Board of Directors with fundraising outreach to foundations, corporations, existing donors to the organization, in addition to new prospects through outreach, correspondence, face-to-face meetings, grant writing submissions along with managing and developing the organization's database of current funders and prospects.  Their responsibilities will also include support for the coordination and execution of fundraising events, donor stewardship and general administrative support and the coordination of agency correspondence and donor mailings.
For more information, click here.