Kayley Rettberg: Shaping her life and career with secular values

Growing up, Kayley's family identified as "Chreasters," going to Catholic Church on Christmas and Easter. When she started weekly religion classes in second grade, she said, "I always felt the most judged in the Church, the very same space where I was told to let God do the judging." That disconnect in values led her to opt-out of Confirmation in eighth grade. She had reservations about institutionalized religion, but it was not until college that she really investigated her secularism.
In undergrad, Kayley was a member of both the Secular Student Alliance (and later, the president of her SSA chapter) and Interfaith. Through her involvement with both groups, Kayley began developing her worldview. Around her junior year, Kayley started to identify as a secular humanist, realizing what she believed in was humanity.
Being involved in her SSA was very important to Kayley.  "I knew I believed in secular values since I was in eighth grade, but never really had a community of secular people to talk to. Finding SSA helped me gain that community, share my story, and hear the stories of other secular people. It was really empowering for me to see how SSA can build that community, and that's one of the main reasons I'm so proud to be our campus chapter's president."
Like many SSA leaders, Kayley was drawn to her campus chapter for the opportunity to be in community with like-minded individuals. SSA chapters also provide a space for students to develop and express their values in the world. SSA's commitment to social justice was extremely important to Kayley. "I think that the secular movement is the perfect place for this commitment [to social justice]," she said, "and I try to live it out both with my school's chapter, and in other areas of my life as well." Kayley was also the Senior Class President, President of the Hiking Club, a captain of the Ethics Bowl Team, and a student leader for Alternative Spring Break.
Kayley was named 2019 Student Laureate by the Lincoln Academy of Illinois. The Lincoln Academy Student Laureate Awards are presented to one senior from each of Illinois' four-year, degree-granting colleges and universities and community colleges, who demonstrate excellence in curricular and extracurricular activities. Kayley said, "I feel extremely proud and grateful to have been chosen and to be an IWU Student Laureate. Additionally, think that it comes with the responsibility to continually live out my life and career with integrity, compassion, and dignity."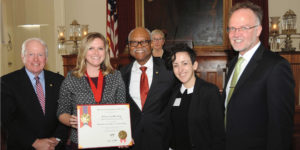 In early August, Illinois Wesleyan University held its graduation ceremony. As Class of 2020 President, Kayley was a featured speaker and told her classmates, "We must work together to come up with and to actualize creative solutions to all of the world's problems. Fortunately, our time at Wesleyan has placed us in the position to be the thinkers that our world so desperately needs."
Kayley continued, "Many of us are embarking on journeys that, six months ago, we never would've even thought of. With that, there comes fear, sadness, and some instability. But regardless, I firmly believe that each of us has the ability to prevail. We will find what we are passionate about, we will fight hard for it, and we will all land on our feet. And, we won't do it alone, because our time at Wesleyan has brought us incredible friendships and incredible bonds that will never let us sink. They're irreplaceable."
For the upcoming fall, Kayley is attending the Sturm College of Law at the University of Denver, where she is a Sturm Scholar. Her studies will focus on the intersection of criminal and constitutional law, participating in both criminal defense and civil rights law clinical experiences.  Over graduation in 2023, she hopes to do criminal defense work, particularly post-conviction litigation.
"As a secular person, I believe that we have a duty to one another. A duty to treat each other with dignity, respect, and with the propensity to change, because we are connected by our shared humanity, not a God. Our humanity is worthy of respect regardless of who we are or what we have done."

As we celebrate our 20th Anniversary, we have been presented with a gracious opportunity for your donations to be even more impactful for our students. Phil Ferguson and Polaris Financial Planning will match new or increased monthly donations to the Secular Student Alliance to total $20,000.  When you make a new monthly donation or increase a current monthly donation, Phil will match it dollar for dollar, up to $10,000.
Please visit secularstudents.org/phil to make a monthly donation or increase your current monthly donation now. On behalf of our students, thank you for making an investment in secular students today for a more secular future!