Faith-Based Outreach: Open Letter to Los Angeles County Board of Supervisors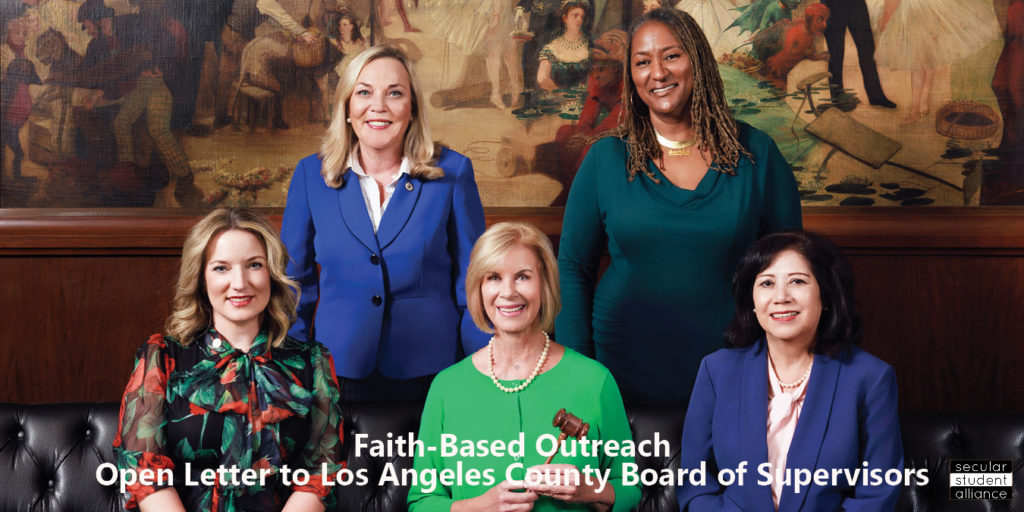 Open Letter to Los Angeles County Board of Supervisors Regarding Faith-Based Outreach
Hilda Solis, Holly Mitchell, Lindsay Horvath, Janice Hahn, and Kathryn Barger
Last year, the Los Angeles County Board of Supervisors unanimously approved funding for a consultant to explore effective ways and solicit feedback on how faith-based organizations can complement, and perhaps replace, county services to support children and families. 
While the future potential implementation of providing public funding to religious-based organizations to perform county responsibilities violates the separation of state and church, makes the county complicit with publicly-funded discrimination, opens the county to legal liability, diverts funds from vital county programs, and tramples over the freedom of religion.
Los Angeles County is one of the most religiously diverse cities in the world, including over 30 percent of citizens who are non-religious.  Just through the implementation of the consultancy process, special privilege and preference was given to Christian organizations, over those from non-Christian religions and the non-religious. 
To engage and solicit feedback from the diverse citizens of LA County, the consultants set up nine community listening sessions for "Faith Leaders" only at Christian churches, except for one virtual session. An additional listening session hosted at the Jewish Federation of Greater Los Angeles was added very late in the process with no further noticeable promotion to county residents. Each county-sponsored listening session started with a prayer.
There are numerous Jewish community centers, mosques, and temples that could have been used for the listening sessions to include non-Christian people.  Using religiously-neutral facilities, listening sessions could have been held at public schools, public libraries, or community meeting rooms at county parks to ensure all of the county's residents felt welcomed, invited, and included.
While the Eventbrite stated "Leaders from all faiths are welcome," all of the originally-publicized sessions were held in Christian churches, leaving out multiple faith communities and non-religious county citizens.  The text of the invitation's non-inclusive language for non-Christian religions and nontheists, including a required field to list one's "Faith Based Organization/House of Worship."
During the listening sessions, representatives from conservative religious churches excitedly stated all services provided by any faith-based organization should be based on "biblical more values" and overtly challenged other Christians who stated services should be open to everyone. While there were very few representatives from non-Christian religions and nonreligious organizations, they were rebuffed and their presence at the listening sessions and participation were questioned. 
Religious organizations, especially Christian organizations, have a long history of discriminating against people in non-Christian religions, non-religious people, the LGBTQ+ community, and women in providing social services. 
Foster Care
Gabe and Liz Rutan-Ram, a Jewish couple, were denied foster care placement and were unable to adopt a child when a state-funded Christian agency and were subjected to outrageous and unacceptable religious discrimination because of their Jewish faith.  Aimee Maddonna, a Catholic mother of three was turned away by a taxpayer-funded agency because Aimee and her family are the "wrong" kind of Christians, because they didn't share the agency's evangelical Protestant beliefs.  Churches have also discriminated against interracial couples in adoption. The examples of religious-based organizations denying foster care services and discriminating against LGBTQ+ people are, unfortunately, numerous.
Health Care and Substance Abuse Treatment
Religious-affiliated health care centers that received HIV prevention government grants, but refused to provide or educate about condoms, or even to work with other agencies that do so; or received grants to help prevent unplanned pregnancies among adolescents, but refused to provide complete and accurate information about contraception or to acknowledge and respect same-sex relationships.  Religious institutions have insisted that they be allowed to discriminate against LGBTQ individuals in regard to employment; to ignore same-sex marriages in providing employee benefits; to fire employees who have used abortion care, contraceptives or assisted reproductive technology, or who have had sex or become pregnant outside of marriage; or even to ignore federal law preventing discrimination on the basis of disability.
Alcoholics Anonymous' 12-step program is based on origins from a Christian group and requires submission to a higher power. Barry A. Hazle Jr sued the state of California after being jailed for complaining about being forced to participate in a faith-based drug rehab program and settled his case for nearly $2 million. In a case involving a Buddhist, the US Equal Employment Opportunity Commission has determined organizations must provide non-Christian-focused programs, as alternatives to Alcoholics Anonymous because of its religious undertones.
Studies indicate that LGBTQ+ people have higher rates of substance abuse, when compared with the general population, and most traditional treatments do not address the specific needs of LGBTQ+ individuals. Despite growing acceptance in the United States, almost all LGBTQ+ individuals face some level of homophobia and discrimination, often associated with religion. Requiring LGBTQ+ people, who have been discriminated against because of religion or experienced religious-based trauma, is unacceptable. In addition, some Christian-based substance abuse treatment programs do not use any research or evidence-based methodology. 
Volunteer Programs
Similar to foster care, health care, and substance abuse programs, religious-based volunteer programs have a history of discriminating against people of other religions, nonreligious, and LGBTQ+ people. Some Christian-based volunteer programs require participants to take a statement of faith or include forced Christian prayer as part of the volunteer program.  In addition, volunteers are not protected against discrimination and can not sue service organizations for sexual harassment, discrimination and retaliation, as volunteers are excluded from Title VII.
Many religious organizations impose a religious litmus test on children and families for programs and services. Unlike public programs, religious organizations can and do discriminate in providing social services based on gender, religion, sexual orientation, gender identity, ability, race, and income. Some private religious organizations do not provide the same rights and protections based on the Civil Rights Act, the Individuals with Disabilities Education Act, and the Americans with Disabilities Act.
Threat to Religious Freedom
Religious freedom is best protected by keeping it separate from government dollars and government control. Providing public funds to religious organizations violates the fundamental principle of religious freedom because they pay for religious-based services with taxpayer funds. Tax dollars should not be used to favor one religion over another. Tax dollars should not be used to promote and fund discrimination against taxpayers. 
Providing public funds to religious organizations also threatens the autonomy of religious organizations by opening them up to government audits, control, and interference. Taxpayer funds should not be used to prevent the free exercise of religion. Private religious organizations more freely exercise their religious beliefs when it is not entangled with the state. When religious organizations become dependent on government funds, there is a danger they will compromise their views to sustain the receipt of public funds.
Clearly, religious organizations in Los Angeles County are excited to have access to the billions of dollars of social services funding, but that does not mean they should. Is Los Angeles Country committed to not provide funding to religious organizations that discriminate against others?  What is the administrative process and expense to vet religious organizations?  As conservative religious groups become more litigious and are filing lawsuits to codify their "religious right" to discriminate against others, the County must be prepared for the increase in legal fees and willing to defend the rights of all Los Angeles County citizens. 
Is Los Angeles County prepared to audit religious organizations that receive public funds?  Are religious organizations, that do not file annual tax or income reporting to the government, prepared for the transparency and accountability of financial reports available to the general public?
A Viable and Prudent Way to Proceed
Rather than violating the separation of state and church and the implications that come with that, establishing partnerships with "Community-Based Organizations," rather than "Faith-Based Organizations," and opening the process to all legally established nonprofits working at the community level is a viable and prudent way to proceed. 
Protect funding for only nonprofits that file Form 990 with secular programs to avoid religious privileging, preferencing, or discrimination. The county can provide resource guides to help faith-based organizations establish secular nonprofit organizations and outline the expectations of financial and programmatic reporting and audits.  Require all county grant recipients to sign non-discrimination clauses before accepting county funding. Create explicit language about how funding can not be used for religious marketing and proselyting and how information and materials should not be intertwined with the provision of services. 
Los Angeles County can be a leader in productive ways to engage with community-based organizations to expand services and better our communities.  Los Angeles County can set a nationwide standard on how to collaborate with nonprofits with the support of public funds while upholding the separation of government and religion, ensuring the county enriches its diversity and the inclusion of all its residents, and supporting the freedom of, and from, religion.