Secular Student Leader Resource Hub
Welcome to the secular student leader resource hub. As a leader of your secular student alliance chapter, you are making your campus a better place for secular students to study and thrive. We've compiled resources to help develop your leadership skills, run your club, plan events and bring secular speakers to campus.
Spring 2022 Secular Student Alliance Chapter Registration

Step 1: Download the Pre-Registration Form to view our Minimum Standards of Affiliation and Registration Requirements.
Step 2: Use your Pre-Registration Form to gather the relevant contact information needed to register.
Step 3: Send in your pre-registration form to organizer@secularstudents.org or complete our virtual form below.
Step 4: Request Chapter materials for the coming year and set up a time to chat with your Campus Organizer!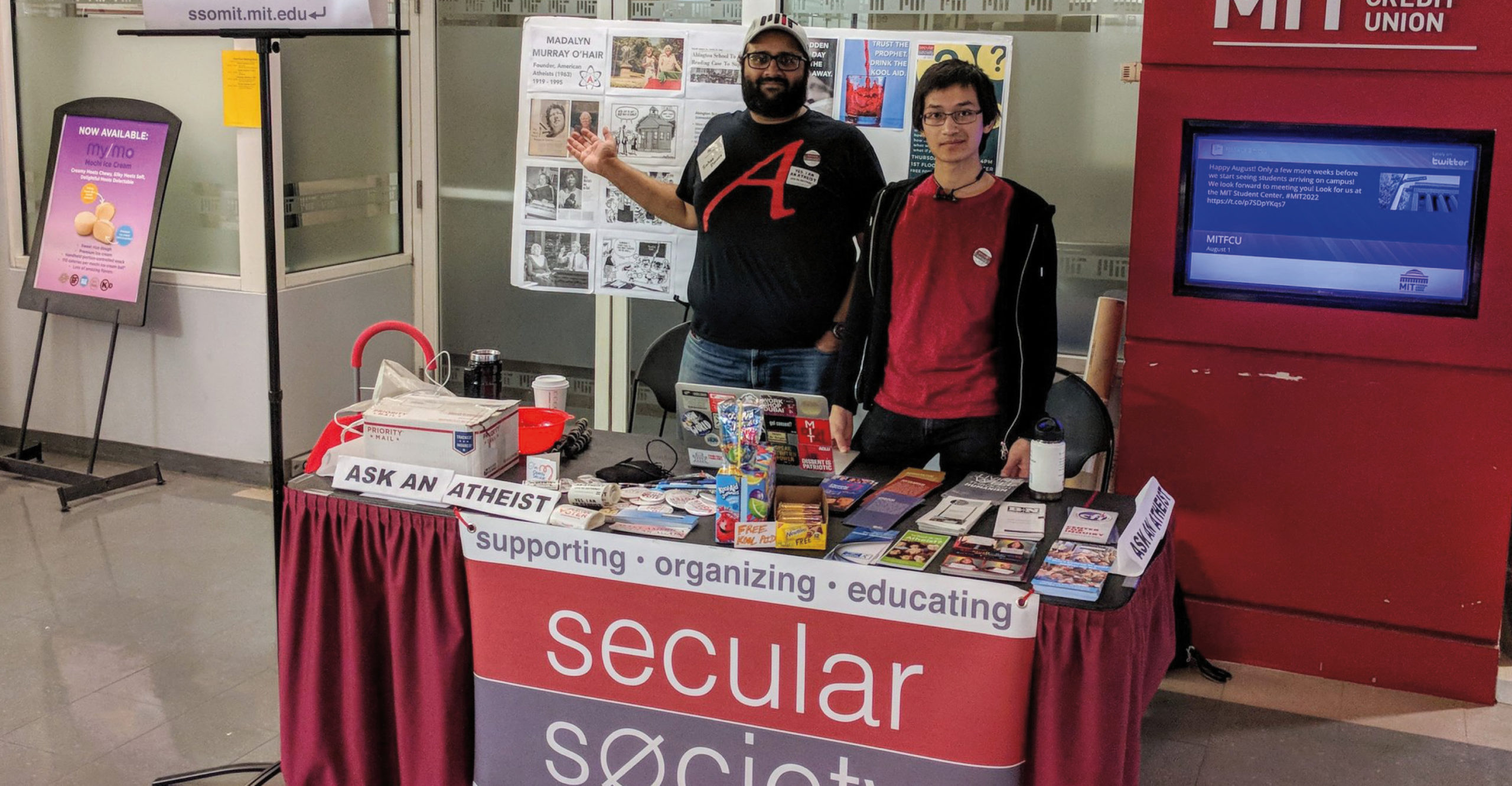 The Secular Student Alliance offers free resources to SSA Chapters and Affiliates.
Tabling Supplies
We offer stickers, buttons, flyers, pens, and more to help promote your club on campus.
Business Cards
Promote your club with custom business cards with your email address and social media accounts.
Banners
Affiliates are eligible for a free generic SSA banner, while Chapters can request a customized banner for their club.
Secular Activist Scholarships
Each year the Secular Student Alliance highlights exceptional secular activism by students through our SSA Activist Scholarships. We encourage all SSA Leaders to apply!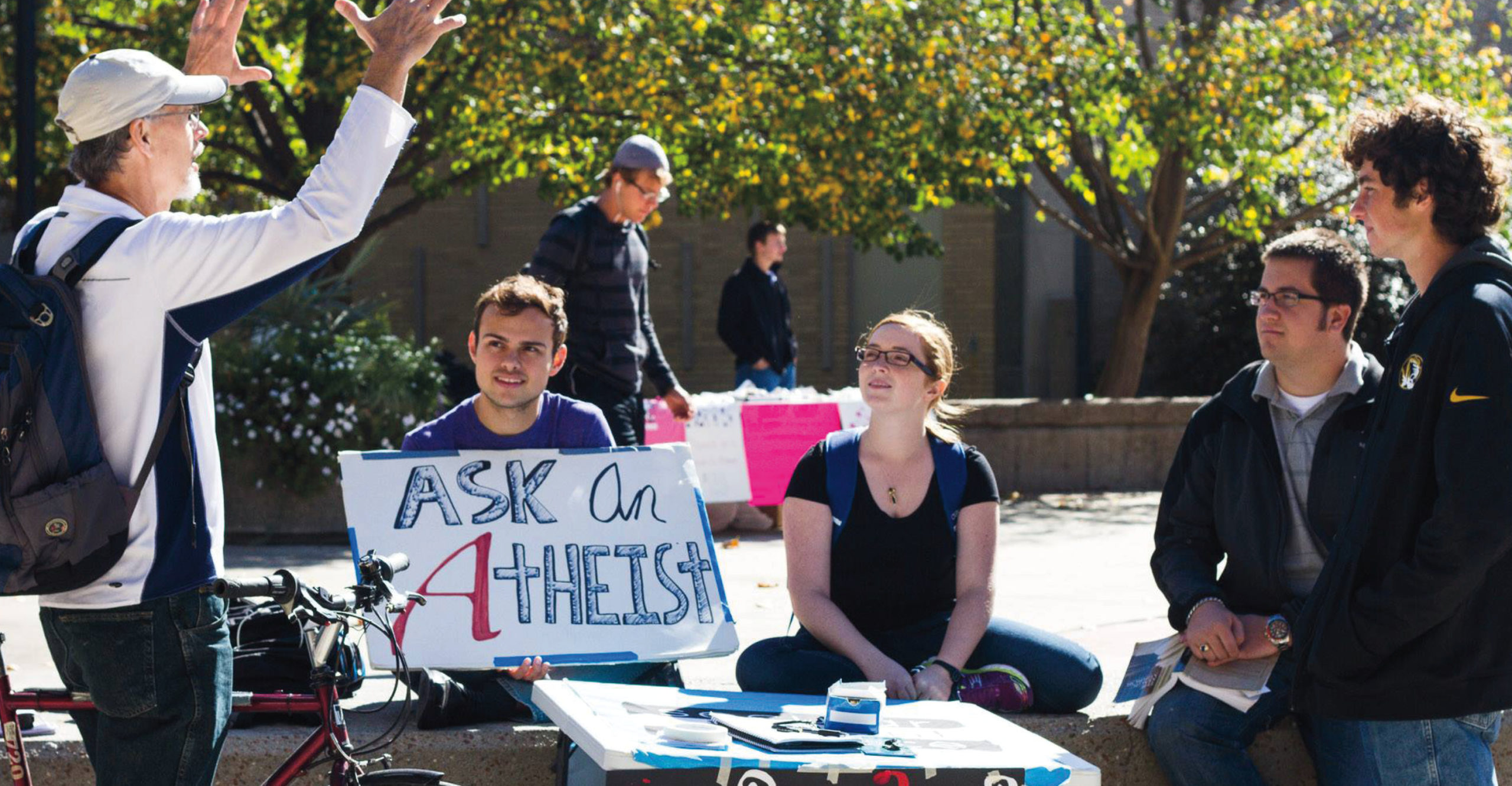 Chapter Leadership Resources
Planning Events on Campus
Need to raise money to support your club? We can help you set up an online fundraiser on Givelively for your club. Let us know whether you are raising funds for a specific event or general club activities!
Think your chapter has planned a praiseworthy event? Let us know what you did and be entered into a raffle for club prizes. Be sure to send us photos from your event.
Looking for ideas of events to host on campus? Check out our program and activity guides for suggested program ideas. Chapters across the country will be involved with these programs.
April 12th, 2022
This year, we're honoring Passover with a non-theistic spin. Join us for the first annual Secular Seder-a humanistic, modern take on the typical holiday tradition.
April 21st, 2022.
This event is intended to be an opportunity for the general public—particularly people of faith—to approach non-theists and ask questions about secular life. We're encouraging all SSA affiliate groups to participate at whatever level they are able!
May 17th, 2022
Voting rights are under attack nationwide as states pass voter suppression laws. These laws lead to significant burdens for eligible voters, and young voters, trying to exercise their most fundamental constitutional right. This panel discussion will highlight current voter suppression strategies and what you can do to combat them.
April 14th, 2022
Join us at our monthly Student Member Meeting April 14th! We will be discussing scholarships opportunities, Ask an Atheist Day, graduation cords, and our upcoming conference.
May 12th, 2022
Join us at our monthly Student Member Meeting May 12th! We will be discussing scholarships opportunities, internships, graduation cords, our upcoming conference, and what you can do to stay active over the summer.
July 8-10, 2022
Join us for the largest gathering of secular students in the country! Register your interest today!
Find more ways to get involved with SSA!
Visit our Member Hub for more information on getting involved in secular activities on your campus! Check out upcoming events and opportunities for atheist, humanist, and non-religious students!