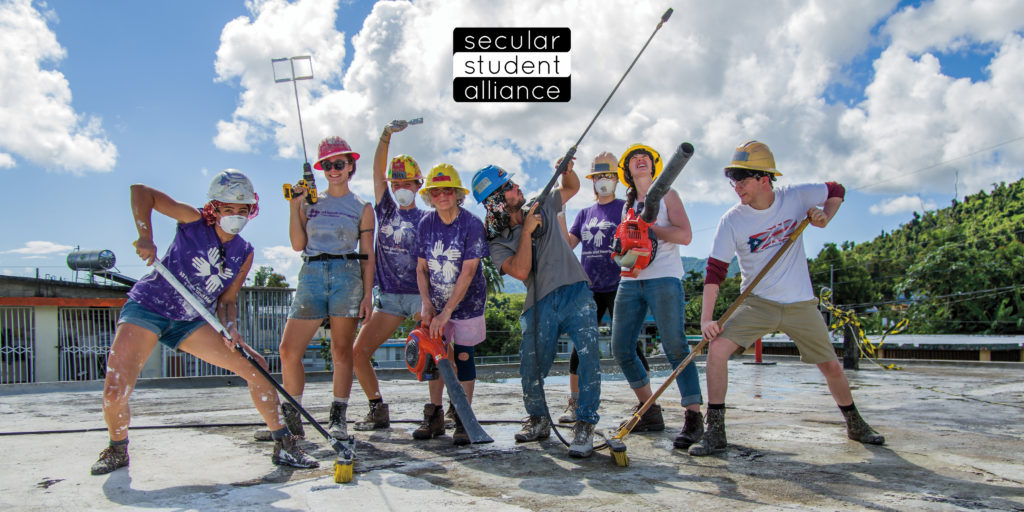 Secular volunteer opportunities for atheist, humanist, and non-religious students.
Put your
values into action

by helping your community.

This year, we are happy to offer a secular spring break experience on March 14-19.  If you are interested in being a part of this life-changing experience, please register your interest below.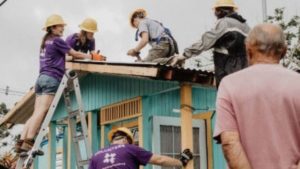 In 2019 and 2020 we partnered with All Hands and Hearts disaster relief efforts in Puerto Rico and the Abaco Islands in the Bahamas to rebuild homes and communities devastated by hurricanes.
If you would like to support students in carrying out this project you can make a tax-deductible donation on our website.
Secular Spring Break 2022   
Louisiana | Hurricane Ida
We are now accepting SSA student members and advocates to apply for Secular Spring Break 2022 in Louisana for Hurricane Ida Relief. Please register your interest below. 
Secular Spring Break is a week-long disaster recovery volunteer experience.  Students will stay at the base camp for the week, meals are provided.  As a volunteer, you will need to cover the cost of your transportation to Louisiana (SSA can help you fundraise) and show proof of COVID vaccination.
Louisiana: Hurricane Ida Relief
Hurricane Ida devastated Louisiana as a category 4 hurricane on August 29, 2021, before continuing to leave a path of destruction through the eastern coast of the United States.
Hurricane Ida made landfall over the Port Fourchon community in Louisiana  – on the 16th anniversary of Hurricane Katrina. Wind speeds exceeding 150 mph were sustained for a total of 6 hours, twice the duration of the 125 mph sustained winds of Hurricane Katrina. There are over 2 million people who live in the affected area.
While the levee system that protects New Orleans held during the hurricane, multiple towns outside its protection saw catastrophic flooding and storm surge. Fallen trees and debris litter the streets across Ida's path. Homes are missing parts of their roofs, fallen trees lie on homes and roads, and some of the most devastated areas are still flooded and remain impassable.