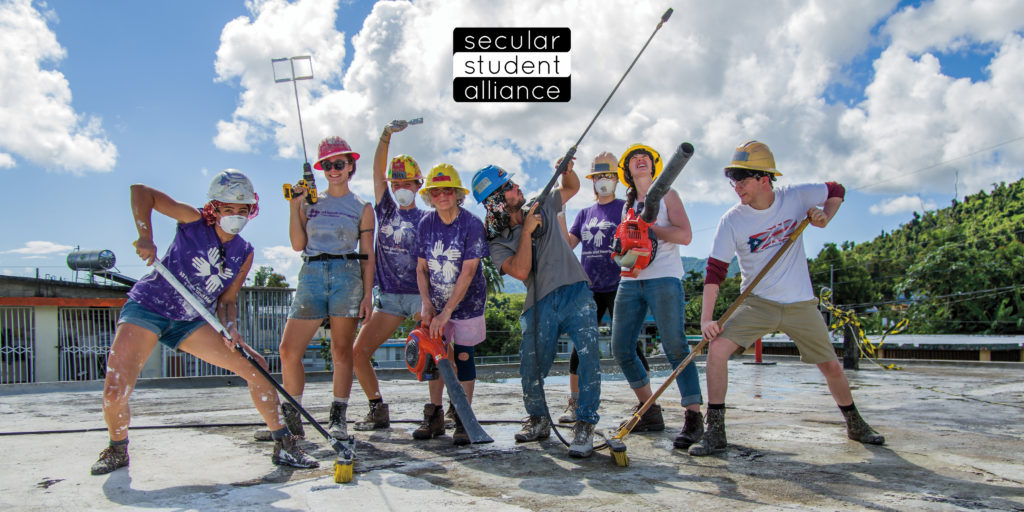 Secular volunteer opportunities for atheist, humanist, and non-religious students.
Put your
values into action

by helping your community.

We are partnering with All Hands and Hearts to offer Secular Spring Break in 2023 March 10-15! If you woul like to join us for this experience giving back to hard hit communities in Florida, please register your interest here.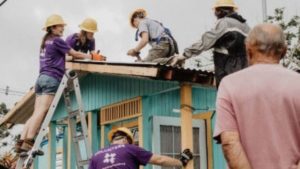 In 2019 and 2020 we partnered with All Hands and Hearts disaster relief efforts in Puerto Rico and the Abaco Islands in the Bahamas to rebuild homes and communities devastated by hurricanes. We are very pleased to be able to offer the program again post-COVID lockdowns.
If you would like to support students in carrying out this project you can make a tax-deductible donation on our website.
Secular Spring Break is a week-long disaster recovery volunteer experience.  Students will stay at the base camp for the week, meals are provided.  As a volunteer, you will need to cover the cost of your transportation to Florida (SSA can help you fundraise) and show proof of COVID vaccination.
Please register your interest in volunteering by clicking below and filling out the form. We will notify you when applications open for the program.
Florida: Hurricane Ian Relief
Our partners, All Hands and Hearts (AHAH), are in Florida responding to Hurricane Ian's devastating impacts. They are performing chainsaw work to remove fallen and hazardous trees, removing debris, mucking, gutting and doing mold sanitation to get community members back into their homes as soon as possible.
Hurricane Ian started as a tropical depression on September 24 and underwent a rapid intensification, making its first landfall in Cuba as a category 3 hurricane. After gaining intensity to a category 4 hurricane, it made a second landfall on the west coast of Florida near St. Myers on September 28, causing devastating impacts to the coast's cities and towns along with catastrophic flooding further inland. Ian's 150 mph winds, storm surge and rainfall caused power outages across the state, damaged infrastructure and overturned cars and boats.
AHAH's volunteer-powered disaster relief model has allowed them to quickly mobilize volunteers to assist affected communities. Hurricane Ian has created a tremendous need for support and volunteers to help these communities recover.