Scholarships for Student Activists
Meet Our 2021 Student Activist Scholarship Recipients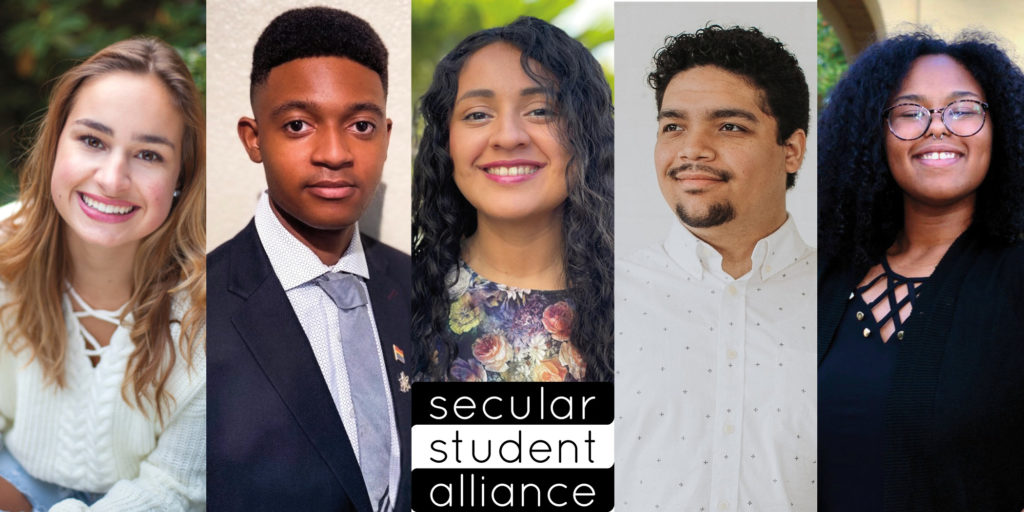 We are pleased to introduce our 2021 student activist scholarship recipients.
This year, our number of scholarship recipients has grown substantially due to partnerships with local atheist, humanist, and freethought groups across the secular community.
We are proud to award the Hurston Scholarship, in partnership with Black Nonbelievers, the Dr. Hector Avalos Scholarship, in partnership with Hispanic American Freethinkers, and several scholarships in partnership with Freedom From Religion Foundation—the Yip Harburg Lyrics Foundation Student Awards and the Cliff Richards Memorial Student Activist Awards.
Alexei | Venice Senior High School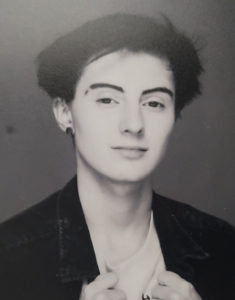 A student at Venice Senior High School, Alexei wants to study anthropology and research sociocultural anthropology, focusing on the societies of ancient Greece and Rome. Alexei grew up in a Roman Catholic household, but really started questioning his religious upbringing at the age of eight. During puberty, Alexei sought help as he began having an identity crisis and was told to pray to God for assistance and guidance. Fortunately, medical and mental health research helped Alexei understand his identity. He came out at age fourteen as an atheist and at age eighteen as a transgender man and feels "no restrains on my identity from a religion that does not accept me."
Alexei is an LGBTQ+ advocate at school and a resource for teachers on trans issues. During the COVID-19 pandemic and the rise of the Black Lives Matter movement, he raised money for the victims of the pandemic and awareness of police brutality. When Florida Governor Ron DeSantis signed a bill into law requiring all K-12 public schools to require a minute of silence for "prayer or meditation," Alexei knew it was a violation of state-church separation and is organizing students to make their voices heard. He's also writing an article on the subject for a Florida newspaper.
Alexei says "despite the separation of church and state, the secular views of students have been neglected and avoided by many institutions. Having an organization like SSA dedicated to the secular views of students is important in the modern world, helping secular voices become more normalized."
Alexei's scholarship is sponsored by the Humanists of Sarasota Bay.
Alina | Concordia College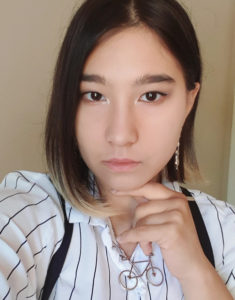 Two years ago, Alina was an exchange student from Kyrgyzstan who traveled to the U.S. to attend high school and learn about American values. Now an asylum seeker, Alina will be graduating in the spring. She is a political science major with a minor in international affairs at Concordia College. Her goal is to work in the United Nations as a diplomat. 
Alina began to question her Russian Orthodox religion in Kyrgyzstan and experienced how Islam attempted to control women. She says, "My secularism is not only an act of protest against discrimination, but also a protection of my right to make my own choices."
A Christian college, Concordia has a history of rejecting secular clubs, but Alina is committed to starting an SSA chapter. For her, being a member of the SSA "means joining a whole community that chose a humanistic future as its purpose" and giving students the courage and support to fight for the equal rights of girls and young women.
Alina's scholarship is sponsored by the Secular Student Alliance.
Amiee | University of Tennessee, Knoxville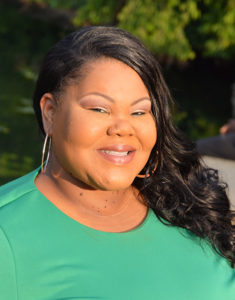 The single mother of a fifteen-year-old, Amiee is working on her Bachelor of Social Work at the University of Tennessee Knoxville. Amiee grew up in a very religious household, went to mass every morning, took Bible classes, and was in the national youth leadership for the United Methodist Church. She was shunned by her church when she was outed as a lesbian.
When she came out as a sophomore in high school, she was called names in the hallways and slurs were painted on her locker, so she met with the school's administration and started a Gay-Straight Alliance. Amiee volunteered with Nashville Cares and Nashville Black Pride. She currently serves on the board for Nashville LaunchPad and A.W.A.K.E Nashville and was a community organizer through the YMCA SEAL (Students Educating Active Leaders) Team, The Oasis Center Teen Connection Program, and other community organizations.
In her current collegiate career, she is involved with the Collation of Black Social Workers, National Association of Black Social Workers, Macro Social Work Student Network, sits on the Committee for Equity and Inclusion, and serves on the Dean's Advisory Council. She is a member of the SSA on campus and believes that all people should be allowed to be their true selves and be free from religious oppression and discrimination.
Amiee is the recipient of the Zora Neale Hurston Scholarship - awarded jointly by Black Nonbelievers and the Secular Student Alliance.
Amuri | Virginia Commonwealth University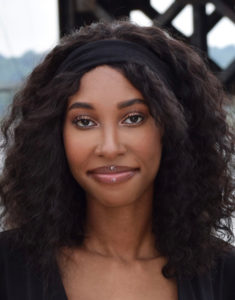 As a child, Amuri experienced periods of adversity, and art was a form of escapism. At Virginia Commonwealth University, she is passionate about art and wants to be a studio artist and art teacher. As the deprioritization of creativity in the classroom in favor of rehashed lesson plans stunts the development of a visionary lens, Amuri wants to ensure future generations are presented with artistic nurturing to maximize their potential.
Amuri wants to promote community engagement in the arts. She volunteers as an art studio assistant at the Children's Museum of Richmond, helping children create art and greatly further their social-emotional development. She has also created several murals in the city of Richmond.
As an African-American, Amuri felt her racial identity led her to secularism, because religion was historically used as a tool of oppression for black communities within America. By promoting freethought within the black community, Amuri hopes this will help shape future leaders that are free from previous biases and unjust religious grounds for governing our society.  Amuri is a continuous participant in activism that points out that there is no justification for prejudice against nonbelievers as well as activism against the use of people forcing their beliefs on others.
A studio artist, Amuri's work focuses on the manifestation of identity—particularly black identity—and consistently features the powerful presence of the black figure as a way to rewrite the narratives western visual media historically assign black figures.
Amuri's scholarship is sponsored by the FFRF Yip Harburg Lyrics Student Awards.
We are honored to work with amazing student leaders. We hope that you will join us in supporting secular students across the country. 
Ane | York Academy Regional Charter School Upper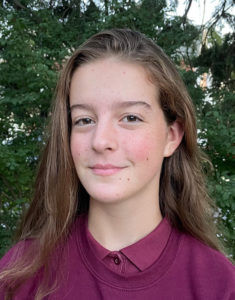 A student at the York Academy Regional Charter Upper School, Ane plans to attend Cornell University or Virginia Tech to earn a mechanical engineering degree. Ane has an interest in a science-related career in engineering because the fundamentals are based on logic and theories that can be tested and affirmed. Having grown up in a secular household, she believes these traits help her maintain a healthy skepticism of religion. 
In her sophomore year of high school, Ane created and led a campaign to provide free feminine hygiene products in all of the girls' bathrooms at her school.  She volunteered with Planned Parenthood and fights when religious ideology impacts proper healthcare access. Ane marched in the first Women's March in 2017 and Black Lives Matter demonstrations in the summer of 2020. She volunteers with York Fresh Food Farms (Y3F), providing locally grown organic produce to low-income families.  She plans to join an SSA chapter at the university she attends.  
Ane participated in a "Get Out the Vote" campaign for the 2020 election, encouraging young people to get to the polls. In addition to working with "get out the vote" campaigns for her local Democratic Party, she will register to vote when she turns eighteen in December and looks forward to casting her first ballot.
Ane's scholarship is sponsored by The Freethought Society.
Aref | Texas A&M University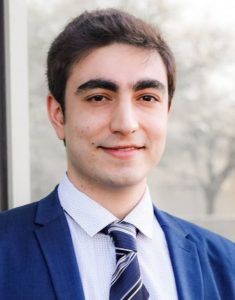 After graduating from Texas A&M University with a degree in computer engineering and science, Aref plans to work in the computer science industry, preferably in software engineering or cyber security. Coming from Iran, people expect Aref to be Muslim, but he was an atheist at the age of six. He says, "being born in an Islamic 'republic' paradoxically made me secular, and having seen the horrors of theocracy, I made it one of the goals of my life to fight for secular values wherever I see religion creeping into people's lives without permission."
Aref joined the SSA on his campus and, a year later, is the president of the SSA chapter. Even with COVID restrictions over the past year, Aref continued to hold discussion sessions and invited representatives of Christian organizations on campus to have discussions about religion and politics. For Aref, secular values include separation of religion from politics, free speech, protection for people unjustly oppressed, and placing a greater value on human life and freedoms.
Aref's scholarship is sponsored by Houston Oasis.
Ashley | Indiana University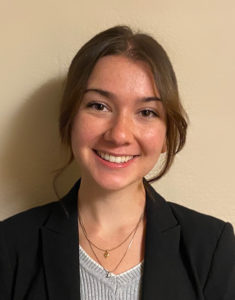 A sophomore at Indiana University, Ashley is studying political science and philosophy to have a career in local government, where she feels she can have the most impact in her community. Growing up, she attended weekly church services and was involved with the youth groups, but never felt a connection to God. She now identifies as agnostic and bisexual, with the growing acceptance of her parents. Through her secularism, she has been able to explore her identity truly.
As a senior in high school, Ashley lobbied her city council for a comprehensive sex-education program in the local school system. More recently, she worked to promote human rights at ICE protests, organized an Anti-Anti-Homelessness legislation protest, and volunteered nights for HOPE packages.  Ashley is also involved with Food Not Bombs and the Bloomington Homeless Coalition in her local community. 
Ashley wishes there had been an SSA chapter at her high school when she was a sophomore, left the church, and felt alone. Now in college, Ashley says that "SSA helps so many young people who feel alienated to find a community focused on doing good."
Ashley's scholarship is sponsored by the Secular Student Alliance.
Ava | Northeastern University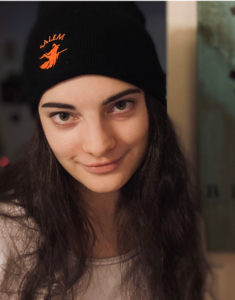 Because of her concern for the impacts of climate change and its human rights dimension, Ava is an international affairs and environmental studies major at Northeastern University. Raised in 'a religiously confused household' with her father's Catholic Italian-American and her mother's Muslim first-generation Turkish-Karachai background, science became the basis for Ava's understanding of the universe. 
As a pro-science existentialist and humanist, Ava believes humans are ethically responsible to each other: to do good and be respectful of each other, without consideration to sect.
Ava co-led New Jersey's first Girl Scout Astronomy Club, with the mission of engaging girls from traditionally underserved demographics in STEM and space science while promoting scientific literacy. She is involved in a variety of youth climate organizations - previously Fridays for Future Digital and Polluters Out, and she currently works with the Sunrise Movement and Boston-based youth climate coalitions. With Northeastern's Alliance of Civically Engaged Students, Ava volunteers weekly with Boston community organizations, including local environmental justice organizations. 
Growing up in a town and high school without any nonreligious-affinity groups, Ava was excited to join Northeastern's Secular Humanist Society because of its dedication to inclusivity and pro-science worldview. Ava explains, "no subject in our conversations is taboo, and the open, tolerant, free society championed by the SSA empowers me to be a more outspoken advocate for not only secularism, but for other progressive causes I believe in."
Ava's scholarship is sponsored by the Secular Student Alliance.
Brandon | Fort Lewis College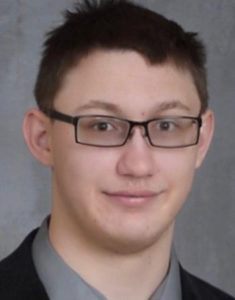 Brandon is a junior at Fort Lewis College and has a lifelong love of math and statistics. His career goal is to become a financial advisor to help people tackle the growing economic divide and support charities. He also plans to run for his local school board to support the next generation of students. 
Brandon has identified as an atheist since middle school, in part, because of experiencing the hypocritical way religious people reacted after the death of his aunt. Simply because she was a single mother, the deacon told him during lunch at school, she was burning in hell. Because of the homophobia that permeates religious communities, he only found acceptance of being bisexual after he left his predominantly Mormon community.  
About being involved in the SSA, Brandon says, "I felt alone and was isolated by my peers and the SSA was a symbol of hope for me, a sign that I wasn't evil or a contrarian. There were people out there that had thoughts and feelings like me." Brandon is active in his college's LGBT Alliance and participated in several Black Lives Matter marches in Colorado.
Brandon is the recipient of The Janice Mowry Memorial Scholarship.
Christina | California Institute of the Arts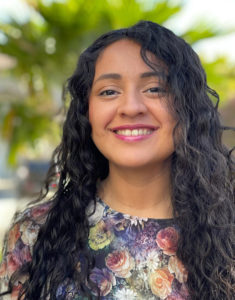 Christina is a non-traditional student earning her Bachelor of Fine Arts in Graphic Design at the California Institute of the Arts.  Coming from a Latinx background, Christina was raised in a Protestant family and socialized to believe she was less important than men. She began to question her religious beliefs in high school when she became friends with people from different backgrounds and different belief systems. 
While she was still too young to vote, Christina's secular activism began in 2008 with the fight against California's Prop 8, which banned same-sex marriage in the state. Christina began attending Gay-Straight Alliance meetings and protests. More recently, she attended Black Lives Matter protests, and is involved with her local Democratic Socialists of America chapter as well as Planned Parenthood. Christina says being "marginalized by my race, sexuality, and gender has prompted me to accept, celebrate, and fight for others who are similarly marginalized."
Christina is starting a Secular Student Alliance chapter at the California Institute of the Arts. Local schools have adopted policies that harm marginalized students, especially transgender students, on a theological basis. She attends meetings at city hall and promotes secularism on a local level in Santa Clarita, which has the largest Mormon population outside of Salt Lake City.
Christina's scholarship is sponsored by the Humanist Association of Orange County; Inland Empire Atheists, Agnostics and Humanists; Humanist Society of Santa Barbara; and Atheists United.
 Douglas | University of California, Merced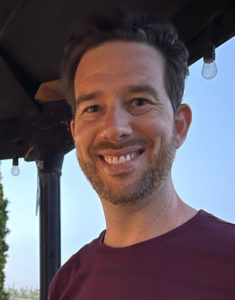 In March 2001, Douglas immigrated from Brazil to the United States as a teen who did not speak English. Six months later, the terrorist attacks of 9/11 changed immigration laws abruptly and he became undocumented. Recently, Douglas graduated with an associate's degree and transferred to UC Merced to study environmental engineering, with a hope to lessen the impact humans have on the environment and solve issues related to water usage and the shortage of affordable green housing. 
Douglas began to question his faith in 2009 and now identifies as a secular humanist agnostic atheist. Being a non-believer and an immigrant, he has faced unwanted prejudice, preconceived biases, and rejection. He explains, "my experience as an immigrant in this country has taught me to disregard insults and preconceived judgments, similar to daily situations experienced by the unhoused population. That experience has humbled me to reserve judgment and act with compassion to achieve the human well-being goal."
Douglas volunteers with Atheist Helping the Homeless in Modesto, California.  This academic year, he is working to revive the Secular Student Alliance on campus to serve as community support for nonreligious students and promote well-intentioned activism.
Douglas' scholarship is sponsored by the Humanist Association of Orange County; Inland Empire Atheists, Agnostics and Humanists; Humanist Society of Santa Barbara; and Atheists United.
Egan | The University of Texas, Tyler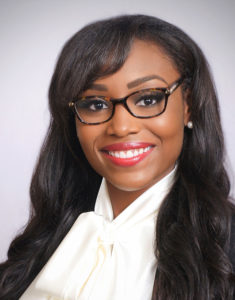 Egan is pursuing a Master of Science in healthcare administration at Texas Tech University and an MBA in cyber security at The University of Texas at Tyler. She was raised in a highly conservative Christian household and community. Egan's progression to secularism started during adolescence with conflicting values of the Jehovah's Witnesses doctrine and the medical and mental health community. Egan was removed from fellowship and the congregation was mandated to shun her. 
"The Jehovah's Witnesses religion was my entire identity apart from being an African American woman," said Egan, who now identifies as an atheist and humanist.  She is involved with the Freedom from Religion Foundation, Recovering from Religion, The Dallas-Plano Atheists, Metroplex Atheists, Freethinkers of Fort Worth, and Black Nonbelievers. Egan says the Secular Student Alliance is essential to helping nonreligious youth gain the comprehension and willpower to question the foundations of their upbringing and develop a humanist future.
Egan is the recipient of the FFRF Cliff Richards Memorial Scholarship.
Elisa | University City High School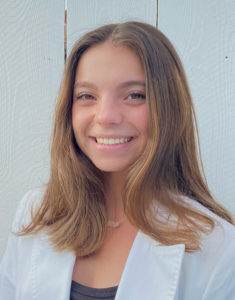 Elisa attends University City High School in San Diego, California. After getting a Bachelor of Arts in political science or international relations, she plans to attend law school and aspires to serve as one of the youngest people in Congress. Growing up in a strong Catholic Italian family, Elisa says she had never been religious. As an atheist who values humanitarian ideas, she believes everyone deserves to be accepted, regardless of their race, sexuality, gender, age, or religious preferences. Being a bi-cultural, first-generation American with three citizenships has profoundly influenced her passion for politics and activism, particularly with issues such as immigration, climate change, gun control, and human rights. 
The 2012 election of the first Black U.S. President and the 2016 presidential election's devastating effect on her immigrant community impacted her political passion and interests. She believes youth participation in democracy is essential and is involved with young democratic and activist organizations, like High School Democrats of America, March for our Lives, Greta Thunberg's Climate Strike, and the Black Lives Matter movement
Elisa is starting an SSA chapter at her high school to help empower other students to express their secular identities and promote the separation of church and state along with women's rights, abortion rights, health care, vaccine access, and education.
Elisa is the recipient of the Thomas W. Jendrock SSA Student Activist Award.
Emily | Ilisagvik College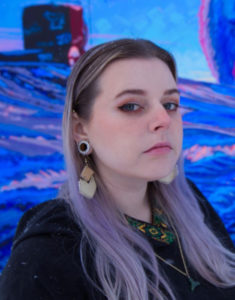 Currently studying at Ilisagvik College to be an educator, Emily is a second-generation atheist. Religious adults always argued with her about atheism when she was a child, even her own extended family members.  She was often bullied at school for being an atheist.  
Emily's father was called to the school on more than one occasion as Emily was an activist from a young age—walking out of class when the teacher started praying and being sent to the principal's office when she did not stand for the Pledge of Allegiance. She watched as neighbors burned crosses into her yard.
Growing up in a mixed-race household, Emily says she didn't fit in with the White kids or the Hispanic kids. Emily does not fit into a box in terms of sexuality either. Since there were no secular youth groups in her town in Florida, she started her own. She says she sees herself "as a trendsetter and a leader, as well as an outcast. I became a leader among the outcasts and the 'weirdos' that were just like me and discovering themselves. My voice is loud, my opinions are strong and I'll always fight for what's right."  Emily is starting a Peer Support group at her college in a remote village in Alaska this fall. 
Emily's scholarship is sponsored by the Secular Student Alliance.
Gharlah | Atlantic Technical Center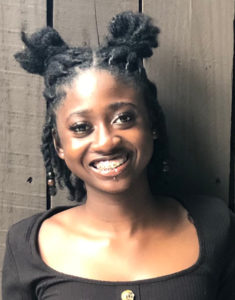 A nursing student at Atlantic Technical Center, Gharlah, who aspires to be an immigration lawyer, grew up in a strict, Pentecostal Haitian household, where "if you didn't love God, you were worshipping the devil." The hypocrisy of people in the church led Gharlah to start to doubt the church. In a tenth-grade history class about how religion was created, she realized fear was the only thing holding her to religion. 
Because of her previous experience in the church, Gharlah realized as a woman she would be a second-class citizen, and that as a poor African American, in Islam or Christianity, religion was behind the justification of slavery. She said, "The more I pushed from religion, the happier I became and the more I grew."
After earning her nursing degree, Gharlah will start advocating for evidence-based sex education for high school and LGBT+ students in Florida, an abstinence-only sex education state. Her other passion is immigration because of how the current system devalues humanity and life on a hierarchical level.
Gharlah's scholarship is sponsored by the Florida Humanist Association.
Hannah | Florida International University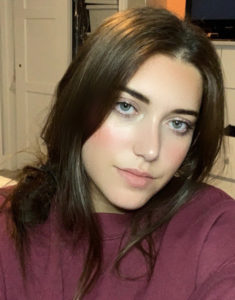 An international relations major at Florida International University, Hannah stated her secular identity stems from her personal attitude towards labels: "secular," "Jewish," "woman," "bisexual," and "college-educated."  Born into a Jewish family of Polish descent, Hannah was raised with values stemming from a passion for human rights and world peace.  And her secular identity stems from her activist work as a community organizer.       
 During Covid, at only 20 years old, Hannah founded a nonprofit, Vote to Push Play Inc., whose mission is to foster collaboration between the arts and politics in Miami communities to create social change. She aspires to use creative advocacy to promote equity and equality across the nation.
 Hannah's engagement started early in high school, when she served as the youngest fellow for the Hillary for America campaign and then worked with the Florida Democratic Party. In college, she worked as an organizer for various non-profits and on legislative and judicial campaigns in Florida and Wisconsin. Recently, Hannah was inducted into Sigma Iota Rho, and she is active in FIU College Democrats and the FIU chapter of UNA-USA, a branch of the United Nations Association. Since returning to campus, Hannah has begun her work to mobilize and engage the community with respect to the 2022 elections.
Hannah's scholarship is sponsored by The Atheist Community of Polk County.
We are honored to work with amazing student leaders. We hope that you will join us in supporting secular students across the country. 
Jonathon | Howard University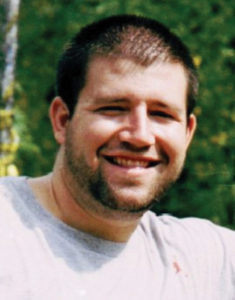 A graduate student at Howard University, Jonathon plans to start his doctorate to become a tenure-track professor. Even though his parents are atheists, Jonathon grew up going to church with his sisters. After joining the Marine Corps, Jonathon sought religion and drinking to help him deal with the guilt of taking another person's life. Feeling that God was angry at him, he doubled down on religion, but that only led to depression. 
In college, Jonathon began studying humanism and said, "I realized I didn't need a religious ethos to help humanity or as a guide. That was ten years ago." He also became involved with an outdoor recreation group for disabled veterans.
Jonathon went through the Undoing Racism institute with the People's Institute For Survival and Beyond to help him be an ally in the fight against racism. He is also a member of PFLAG and Dad Hugs. Jonathon participated in the Occupy Wall Street Movement and helped found the local chapter of Black Lives Matter in Cincinnati.
Jonathan's scholarship is sponsored by The Military Association of Atheists and Freethinkers. militaryatheists.org
Jordan | Fordham University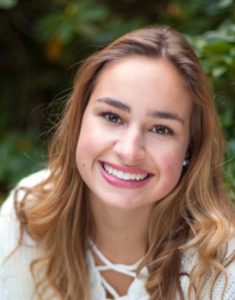 Jordan is a senior at Fordham University in Bronx, New York, aspiring to go to law school with the goal of becoming a criminal prosecutor of sex crimes. Raised in a secular family, Jordan was informed by a Christian friend that she "would be going to Hell," since she was never baptized. By high school, Jordan's secular identity was not just shaped by a secular upbringing and lack of belief in God, but by a passion for human rights and separation of church and state. As a queer woman, Jordan has seen first-hand how religion encourages sexism and homophobia.
Jordan says SSA's presence breaks the widely held conception that most Americans are religious and it is a religious country. She is on the Fordham SSA Executive Board and member of the Student Government's Committee on Sexual Misconduct. Even though Fordham is a Catholic institution, Jordan says the secular population is bigger than it might seem—but it is hiding. As Jordan puts it simply, "SSA is about doing good." The SSA at Fordham challenged the school's health center policies, which do not offer any contraception. They created a petition to change the policies, allowing the school could keep its Catholic identity and plenty of loopholes to allow more access to sex-related healthcare for students.
Jordan's scholarship is sponsored by the FFRF Phoenix Fund.
Julius | Texas State University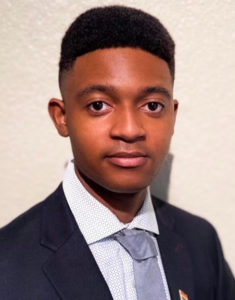 Currently majoring in public administration with a minor in criminal justice and psychology, Julius is applying to the Honors College at Texas State University. If accepted, he will have the opportunity to complete an undergraduate thesis. He plans to earn a Masters of Science in political, social, or experimental psychology to better understand complex social phenomena (i.e., belief in conspiracy theories, political extremism, and terrorism) through the process of rigorous empirical research. His career goal is to assist governments with developing evidence-based programs that work to prevent and counter radicalization and violent extremism in the United States. As a patriot, Julius believes that striving towards an environment where citizens can enjoy themselves and exercise their individual liberties without fear of violence is pertinent to maintaining a healthy liberal democratic society. 
  Growing up in a very religious and impoverished family in Central Texas, Julius noticed that a common cultural practice within the Black community there is to "give it up to God." Upon graduating high school in 2017, he fully invested in living by his "Christian values" even though he was openly LGBT.  Noting the inefficacy of prayer and inconsistencies and fallacies in the Bible, Julius now identifies as an agnostic/atheist with secular humanist views.
  This fall, Julius is an intern with the National Consortium for the Study of Terrorism And Responses to Terrorism working on the Understanding Domestic Radicalization Project. He volunteered with Austin Atheists Helping the Homeless. He is also an advocate for LGBT issues within the black community, especially concerned with anti-LGBT misinformation and the spread of misinformation regarding the coronavirus pandemic.
Julius' scholarship is sponsored by the Freethinkers Association of Central Texas.
Landrick | Keiser University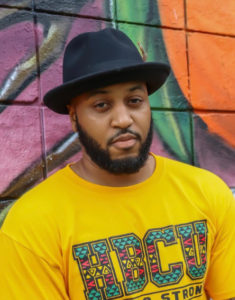 Currently a certified EMT and a volunteer with the local fire department, Landrick is earning his bachelor's degree in homeland security at Keiser University.  His career goal is to become an FBI Surveillance Agent or Swat Medic. He is also a comedian. 
Growing up in a Christian household, his religious beliefs faded from an inquiring mind and research led to his own reasoning. Being a black male atheist, Landrick can feel isolated because of the small number of people like him who are nonreligious. 
Landrick has seen how religion has been used to hurt the black community. On stage as a comic, he uses comedy to make good-hearted but informative jokes about growing up religious, hopefully prompting others in the black community to question their own beliefs.
Landrick's scholarship is sponsored by the Florida Humanist Association.
Maclaine | University of Florida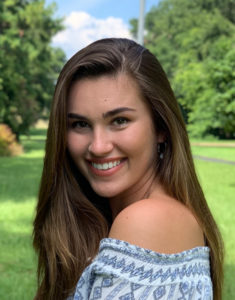 A senior at the University of Florida, Maclaine is majoring in public health, will start graduate school in January, and plans to obtain her doctorate in public health. 
Growing up in a Catholic community, she started identifying as an atheist at the age of ten. She remembers mustering the courage to tell her parents, only to learn her father was an atheist and her mother agnostic. Despite this, she still felt the sting of religious-based sexism in her larger family and rejected the "traditional religious" views of women and misogynistic limits on her future. 
Maclaine campaigned for a local representative in 2020, volunteers for Yogapod—which promotes mindfulness and equality for the black and LGBTQ+ community—and serves on the Green Greeks executive board focused on more efficient ways to take care of the environment. Maclaine is also a member of her university's SSA chapter and serves on the SSA National Leadership Council.
Maclaine's scholarship is sponsored by The Humanists of North Central Florida.
Malik | University of Missouri, St Louis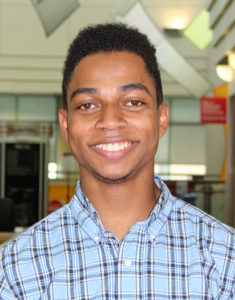 Malik, a senior media studies major, became an atheist in 2019 after a long period of exploring non-Christian religions. He recognizes they were not compatible with scientific thought nor his views on social justice. Being an atheist caused Malik to lose relationships with friends and family. This led to financial and housing insecurity. 
As his university reopens, he says "it will be even more important to form our community as some of our members may have been stuck with unsupportive families." He also notes that "hate preachers will likely return to campus to harass students." While there are some local secular groups in the St. Louis area, having a community at his university was essential to him and others, especially with the prevalence of religious student organizations
"Having access to a supportive community that does not demand belief in the supernatural is something that I sought once I realized I no longer bought into religion," he says. Malik and other leaders "have noted how important this group was for people of color as many showed interest in the past for our organization although they feared the stigma of being nonreligious or atheist."
Malik's scholarship is sponsored by The Rationalist Society Of Saint Louis.
Miguel | University of Vermont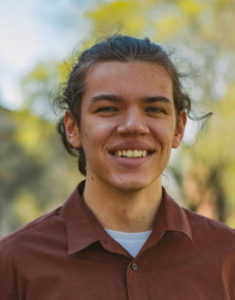 A Chilean-American, Miguel is a student at the University of Vermont and is passionate about criminal justice reform. As a Unitarian Universalist, he doesn't "believe in the traditional idea of a God, but in the power of human people to create a unique society and change that society sustainably for the interests of everyone."
Miguel was involved in the March For Our Lives movement as a protester, organizer, lobbyist (on the state and federal level), testified to the Rhode Island Senate Judiciary Committee on specific gun control policies, and acted as a strike captain with the Sunrise Movement at his high school. He also lobbied and protested for immigrant rights in Washington, D.C., as part of the ACLU Summer Institute. He plans on being a volunteer translator for Burlington's large and growing immigrant population. 
To combat the massive political infrastructure of conservatism in the U.S., Miguel focuses on tangible, real-world, local activism. He also believes that "building real-life, face-to-face communities makes our movement stronger" and that letting students of all spiritual backgrounds express their identities is an example of real-world activism.
Miguel's scholarship is sponsored by the Secular Student Alliance.
Mirona | Winston-Salem State University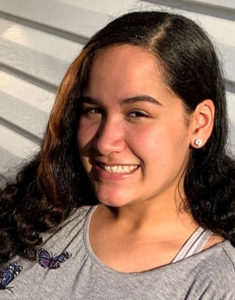 Mirona is a music education major at Winston-Salem State University. Music is her passion and she plans to tutor kids in music after college and become a music teacher and college band director.
Mirona was forced to go to church when she was young and she realized religion was being used as a mechanism to control her and other African American people. But Mirona was rebellious. Because of the negative religious views of her bisexuality and being called a "devil," Mirona quickly realized "religion wasn't for me." Even though she has openly identified as an atheist for 4 years, her family still says she is going through a "phase."
Mirona is the recipient of the FFRF Cliff Richards Memorial Scholarship
Paola | Rollins College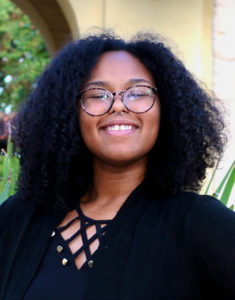 Paola is finishing her bachelor's degree in psychology with a concentration in sexuality, women's studies, and gender identity at Rollins College. After graduating this upcoming May, Paola will work on her doctorate in sexuality, women's studies, and gender identity. As an Afro-Taina from Puerto Rico who is a lesbian, non-binary woman, Paola has experienced how many people of color are "whitewashed in the idea of religion being the only form of salvation." 
Identifying as an agnostic spiritual humanist, Paola believes religion should be completely separate from public education. She organized a protest against Rollins' policy that the leaders of religious clubs should not be LGBT+ people.  She has also organized a Black Lives Matter protest. Paola is senator for the evening school at Rollins representing low-income adults seeking increased access to the college, serves as president of Voices, and chairs the Off-Campus Student Association.
Paola's scholarship is sponsored by the Central Florida Freethought Community.
Ross | Triton College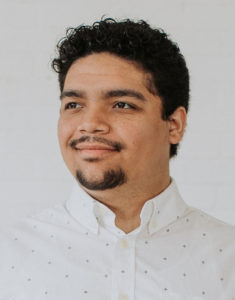 Ross is a computer-aided design engineering major at Triton College. As a mixed-race Puerto Rican, Ross grew up in a Catholic community.  Realizing his scientific views were incompatible with the biblical creation myths, how hypocritical the Bible was, and how religion was used to justify discrimination, Ross came out as an atheist in high school. Because of the deeply religious beliefs in his neighborhood, Ross said it is "hard for a lot of Black or Latinx people to come out of the closet—whether it's for being gay or a secular identity."
In realizing how religious leaders were supporting Christian supremacy in our government, Ross became active in the Black Lives Matter and LGBT+ rights movements to help draw attention to discriminatory laws based on "religious rights." As a photographer, Ross uses the medium to bring light to civil rights protests and is working with a nonprofit to document how gun violence affects marginalized communities.
Ross is in the process of starting an SSA chapter at Triton College to spread the importance of state-church separation. The biggest reason the SSA is important to Ross is "a lot of nonreligious students are shunned from their Black and Latinx communities, which focus a lot on Catholicism and Christianity." and says "it's important to have a space within the community for said individuals to feel safe."
Ross is the recipient of the Dr. Hector Avalos Scholarship, jointly sponsored by Hispanic American Freethinkers and the Secular Student Alliance.
Sami | Arizona State University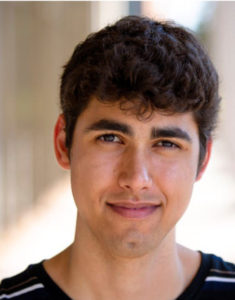 A first-generation college student, Sami is a political science major at Arizona State University with an academic and professional interest in the influence of religious interest groups on government policy.
From his grandfather being brutally killed for voicing criticism of Saddam Hussein's regime, his father fleeing Iraq in pursuit of free speech, and his mother narrowly escaping genocide in the Bosnian War, Sami is an advocate for secularism because his lineage testifies to the atrocities of religious violence. While growing up, he felt conflicted trying to understand the multifaceted parts of his identity. Sami now celebrates his complexity.
Sami interned for Congressman Ruben Gallego, who represents Arizona's 7th Congressional District in the U.S. House of Representatives. Currently, he sits on the board of Secular AZ, where he educates the public on threats to the constitutional separation of church and state and advocates for public policy free of religious preference. He aspires to build a career in the field of politics with a life-long commitment to secular issues.
Sami joined Arizona State University's Secular Student Alliance as a high school senior and started lobbying Arizona State House and Senate members to vote against bills that impinge on Americans' religious freedoms. Sami is passionate about climate change, economic justice, and LGBTQ+ equality, which he feels cannot be addressed in society without the separation of church and state. The rise of religious nationalism spurs his secular activism in mobilizing young secular voters and transforming public perception of atheism.
Sami's scholarship is sponsored by the FFRF Al Luneman Student Activist Award.
The application for the 2022 SSA Student Activist Scholarship opens on April 1, 2022.