Scholarships for Student Activists
Meet Our 2019 SSA Student Activist Scholarship Recipients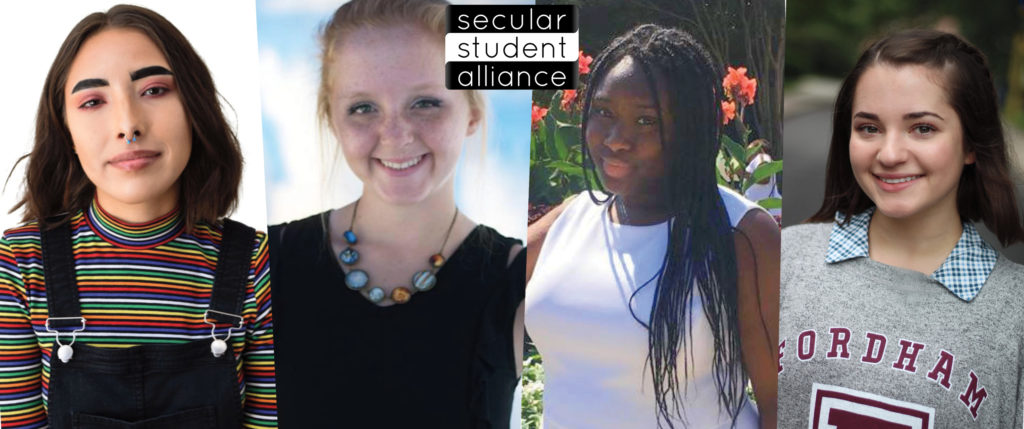 We know that what happens in high schools and on university campuses today is a glimpse into what will be happening in our country in the future...and we could not be more excited!
We are pleased to introduce our 2019 student scholarship recipients.
Catherine | University of California, Berkeley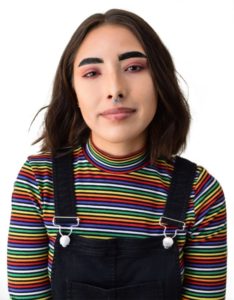 Growing up in a conservative family in central California, Catherine was expected to "secure a job straight out of high school or marry the first man that crossed her path, have his children, and never attend college." When she went against her mother's wishes and enrolled herself at Moreno Valley Community College, her life began to change. Her first year was challenging but very quickly she met adults who indirectly and directly communicated to her that her words and ideas mattered without needing to align with a god or higher being. Today, she is a junior working towards her dream of being an English professor and filmmaker.
Catherine's activism has focused on seeking justice for the LGBTQ+ community, of which she is a member. In 2018, she was accepted into the 2018 Global Girl Media Summer film program on the USC campus where she worked with femme-identifying folks of multiple backgrounds, cultures, sexualities, and gender identities. She has also participated in a wide range of other intersectional activism from her secular point of view both at Moreno Valley College, and now at UC Berkeley.
Her goals are to create and foster brave spaces on her campus that acknowledge humanist, atheist, and other secular identities as they intersect with other marginalized groups, working together for a harmonious society that grants quality of life to all.
Autumn | University of Michigan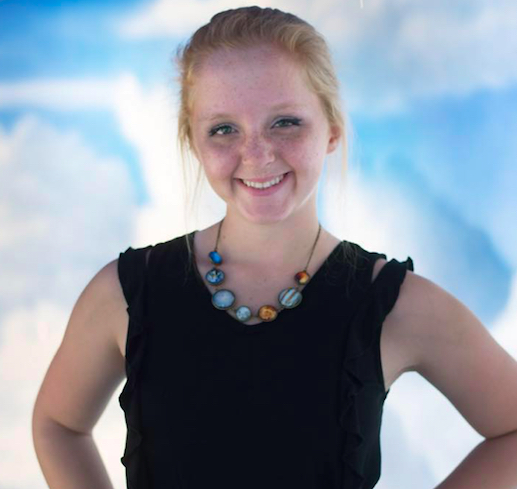 Double majoring in aerospace engineering and astrophysics and minoring in science communication, Autumn's long term goals are to become an Air Force officer, earn a Ph.D. in aerospace engineering and ultimately become a NASA astronaut. Autumn was raised as an evangelical Christian and remembers sitting on her bedroom floor, writing letters to God, pleading for him to change her, and hating herself for who she was. Today she is the only atheist in her family. "I have found the ability to think for myself, analyze the evidence before me, and create my own life path and empowerment like never before," she says.
Autumn describes herself as a low-income, queer, autistic woman and first-generation college student pursuing a career in engineering—a field, she says, not known for being welcoming to people like her.
Out of her desire to make the world a better place, not only for herself but also for millions globally, she has founded four nonprofit organizations, volunteered over two thousand hours, served on multiple youth community boards, given TED Talks about her work, and earned both the bronze and gold Presidential Service Awards.
We are honored to work with amazing student leaders. We hope that you will join us in supporting secular students across the country. 
Lazarus | University of Washington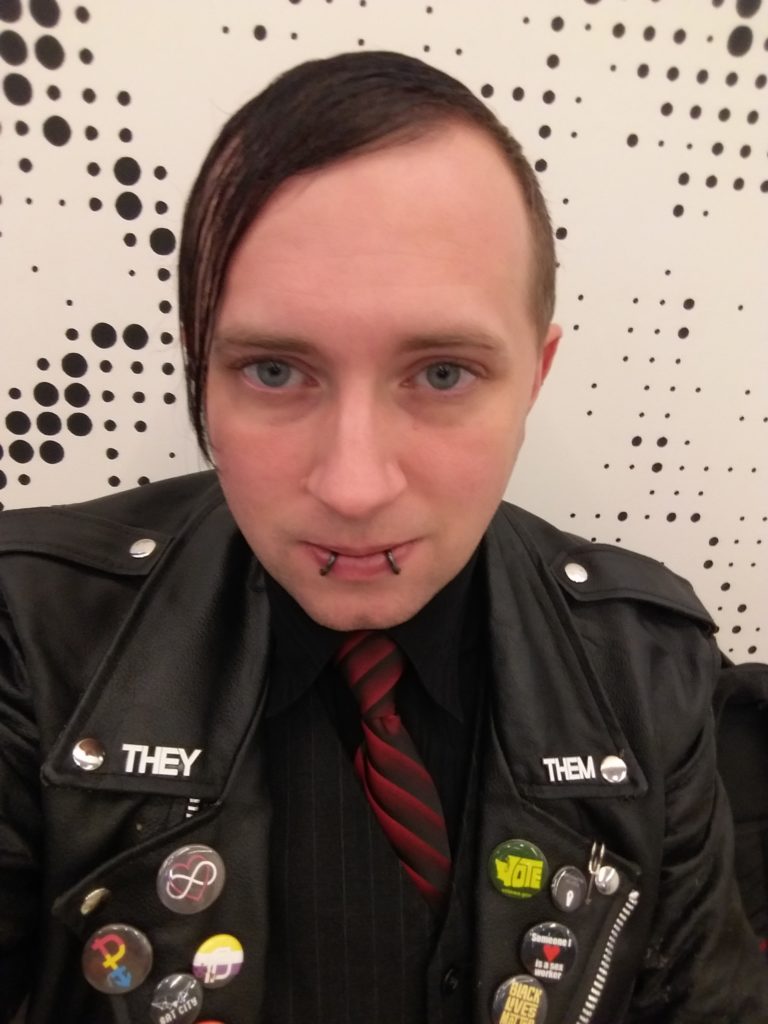 Lazarus attempted to start an SSA chapter at Edmonds Community College but the college refused to officially recognize the club until he graduated. Joining the SSA chapter at the University of Washington, Lazarus is working on a B.A. with a dual major in medical anthropology and indigenous archaeology and minoring in global health.
Motivated by their secular identity, Lazarus is very involved in activism, including fighting for the basic human rights of immigrants, LGBTQ+ individuals, the chemically dependent, and sex workers. Lazarus was involved in the E Pluribus Unum - The Original Motto Project for a number of years and was an active part of their Stamp It Out initiative, bringing attention to the issues of separation of church and state violated by a religious motto on official currency.
Much of their undergraduate research has revolved around issues of secular identity including the disambiguation of African spirituality from colonial Christianity, the impact evangelical Christianity has had on African society, the reculturation of Indigenous American traditions stripped away by the imposition of Christian moral values, how the religiously based language we use around sex work has led to the FOSTA/SESTA laws and their impact on sex workers, and the ways individuals outside the gender binary have adapted to sexualized occupations in a society where the dominant paradigm still favors cis and heteronormative Christian values.
Noah | Jacksonville State University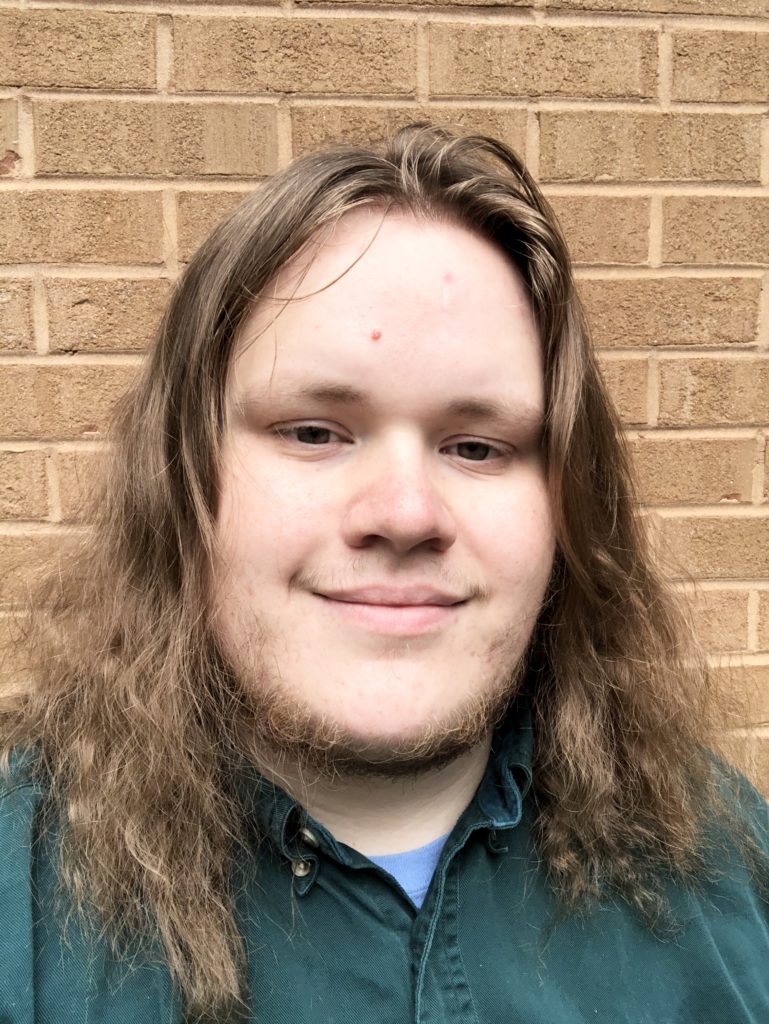 Noah is the president of his SSA chapter. Coming from a family of college professors, he deeply values education and plans to pursue a Ph.D. in geography. He chose geography because it is a way to study the effects of climate change, which he sees as the greatest existential threat to humanity.
In high school, Noah had a reputation as a firebrand evangelical with what he calls "very backward ideas about the equal rights of LGBTQ+ people." He would regularly preach the Bible to his classmates who had come out as gay. When a childhood friend came out as a lesbian, Noah was forced to think more deeply about these issues. Eventually, he came to the conclusion that even if Christianity was true, he did not want to believe in a god that would condemn normal people like his friend. This eventually led him down a path to atheism and he spent the rest of his time in high school sticking up for his LGBTQ+ classmates against the other evangelical bullies at his school.
Some of Noah's secular activism includes leading his SSA chapter, organizing an annual drag show to raise money for a non-profit community center in Birmingham, Alabama, that helps at-risk LGBTQ+ youth, and spending a week volunteering with Camp Quest as a counselor this past summer.
Charlee | University of Texas, Arlington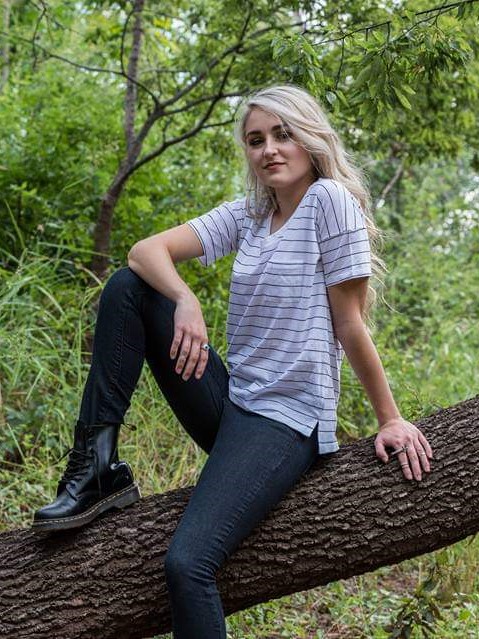 When Charlee is not studying, she works for a non-profit called Girlstart which provides STEM-based programs for elementary-aged girls and as a tutor and substitute teacher for the Arlington Independent School District In both capacities, she helps to inspire children to engage with learning and be inquisitive.
At the age of seventeen, Charlee had what she calls an existential crisis. People asked her questions like, "What do you want to do with your life? Where do you want to go? What do you want to be?" As she thought about these questions, she discovered that people often related the answers to some kind of religious belief. But she never connected her purpose in life to worshiping anyone or anything. That's when she realized she was an atheist. Soon after that, she felt a desire to help people understand atheism and dispel common misconceptions.
When Charlee got to UT Arlington, she noticed what so many students notice: over a dozen religious-based groups but none for secular students. So she took it upon herself to start an SSA chapter: the Maverick Secular Society. In addition to the day-to-day work running her chapter, she also spearheaded a project last year with the Metroplex Atheists in which the Maverick Secular Society built a float for the two groups to use in the Arlington Fourth of July Parade. This year, she traveled to the Texas State Capitol to lobby for Planned Parenthood and marched in the Dallas Fort Worth Pride parade, representing the secular community while showing solidarity with the LGBTQ+ community.
Heather | Clarion University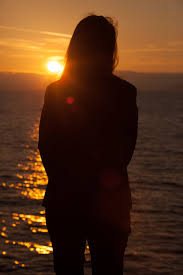 Heather is a junior majoring in environmental biology and geosciences and minoring in sustainability. Her interest is in combating climate change and halting the destruction of our ecosystems caused by the meat, dairy, and fossil fuel industries. Heather was raised in a very traditional family setting full of God-and-country enthusiasts, but she never felt like she belonged there. She identifies as a bisexual, autistic, feminist, atheist woman and never felt comfortable with the idea of worshipping a god that "hated these most intimate parts of how I was born."
Since she is still not out to her family about her atheism, her SSA community is a safe haven for her and dozens of other students. When Heather is not busy maintaining her 3.9 GPA and running her SSA chapter, she also participates actively in the LGBTQ+ club on campus and is a founding member and chair of fundraising and philanthropy for the Clarion Young Democratic Socialists of America.
"I believe that the best thing about secular values," Heather says, "is that they can apply to everybody, regardless of religious affiliation or lack thereof. Who doesn't want to live in a world with free speech, solid scientific foundations, clean air and young people enthusiastic to make the changes they want to see?"
It is not safe for Heather to be fully open as an atheist and she has requested that we not use her photo.
Charlotta | Fordham University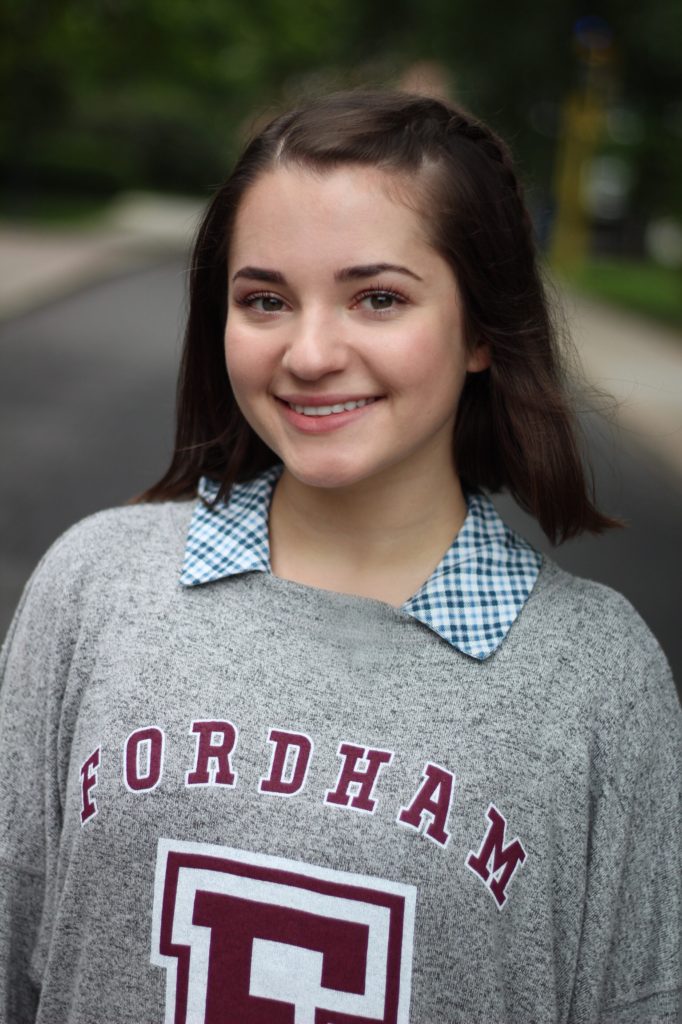 Charlotta is a sophomore pre-medical student, majoring in chemistry and philosophy. She is a lifelong puzzle solver, endlessly curious and driven to find answers. The most exciting puzzle of all, for Charlotta, is the human body, which is why she wants to be a physician.
Growing up secular, she never felt the need to label herself as an atheist until she got to her highly religious, Jesuit university. Many of her classmates were deeply upset by the way she challenged highly esteemed theologians and philosophers of history. She lost friends because of her views, but she also developed invaluable relationships with some of her professors and discovered how important her secular identity was to her. Charlotta's experience made her painfully aware of how isolated secular students feel, so she partnered with another secular student and started Fordham University's first Secular Student Alliance. Charlotta is also heavily involved in Peer Health Exchange, reaching out to underserved high schools in the Bronx and teaching a year-long health and sex education class.
"I have experienced an unwillingness to engage in conversation first hand," she says, "and if my mission with the Fordham SSA will be one thing, it is to shatter this dogmatism and crippling immunization that convinces students that they are not allowed to open their minds or be curious."
Khryshondrai | Spellman College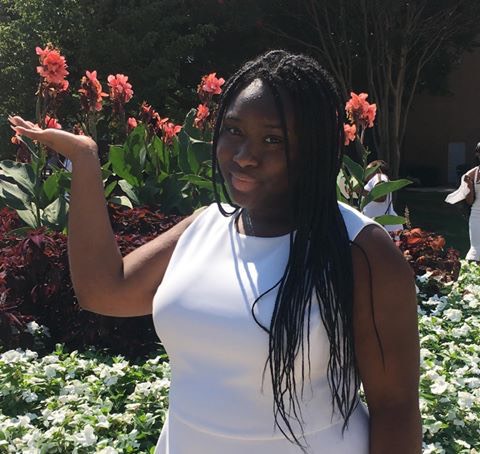 Khryshondrai is a first-generation American born to Afro-Caribbean immigrants who came to this country from Jamaica to seek a better life for their children. Her parents both serve in the US armed services and Khryshondrai is the first in her family to attend college. After completing her law degree, she wants to focus her knowledge on fighting social injustice for all people. LGBTQ+ equality, women's rights, prison reform, and the rights of minority and immigrant populations are all very important in her journey. "I will not rest until I have made a real difference in the lives of others," she said.
Khryshondrai describes herself as a freethinker that does not subscribe to any religious doctrine. She believes that religion is and has always been a tool to keep human beings from being able to realize our true potential.
She held leadership positions in her school's Human Rights commission, the LGBTQ+ rights society, and several groups representing minorities on campus. She volunteered for the "Right to Vote" campaign, canvasing door-to-door to encourage college students to register to vote. She also led a community lobby group that held a sit-in near the local government office to protest for the right for citizens to vote without being intimidated at poll booths and fight against gerrymandering. Khryshondrai plans to start an SSA chapter at Spelman College this year.
Victoria | University of Central Florida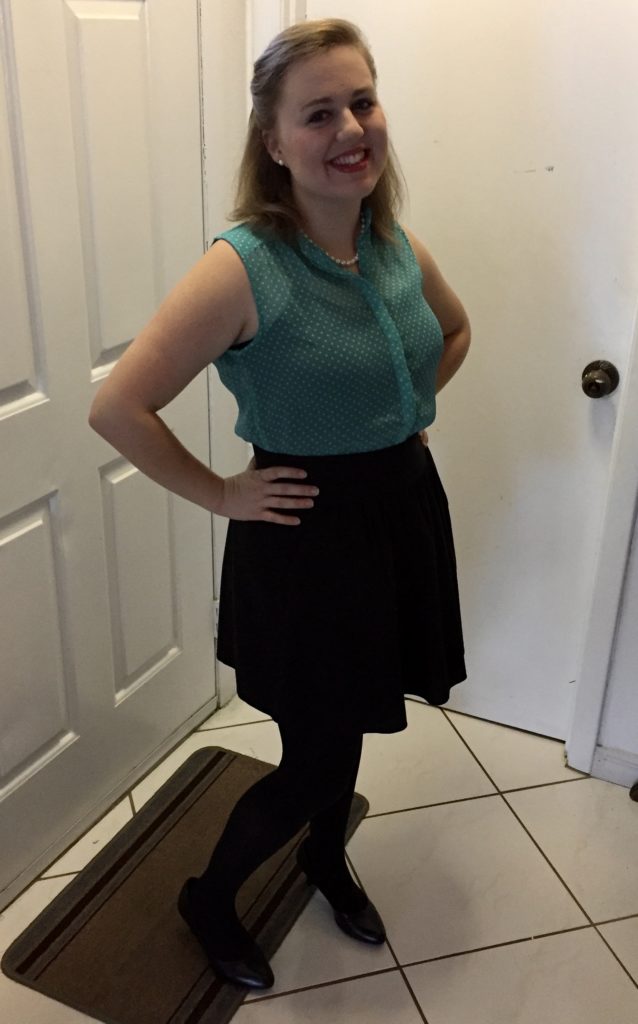 Victoria is working towards her bachelor's degree in english-creative writing, with the goal of earning a master's degree in library sciences and becoming a librarian. Victoria was raised in a devout, fundamentalist Christian environment and, since childhood, wanted to become a missionary and travel the world saving souls. Five years ago, in the aftermath of a personal crisis, Victoria began searching for the reasons people believe in God, or anything at all. After being immersed in a wide diversity of beliefs and realizing they couldn't all be right, she concluded that they were most likely all false and she became an atheist. Today, rather than investing in the church, she puts her time and energy into her SSA chapter at the University of Central Florida.
"The SSA at UCF chapter became my family," Victoria said. "They helped me to find a path that brings me so much satisfaction and joy. Any questions I had they encouraged me to keep asking."
Through her SSA chapter and as a part of the LGBTQ+ community on campus, she became very involved in LGBTQ+ activism. After the Orlando Pulse shooting she and her fellow SSA members organized a fundraiser on campus, donating almost $1000 to the Pulse victims and their families. This scholarship is sponsored by the Florida Humanist Association.
Alexa | Florida State University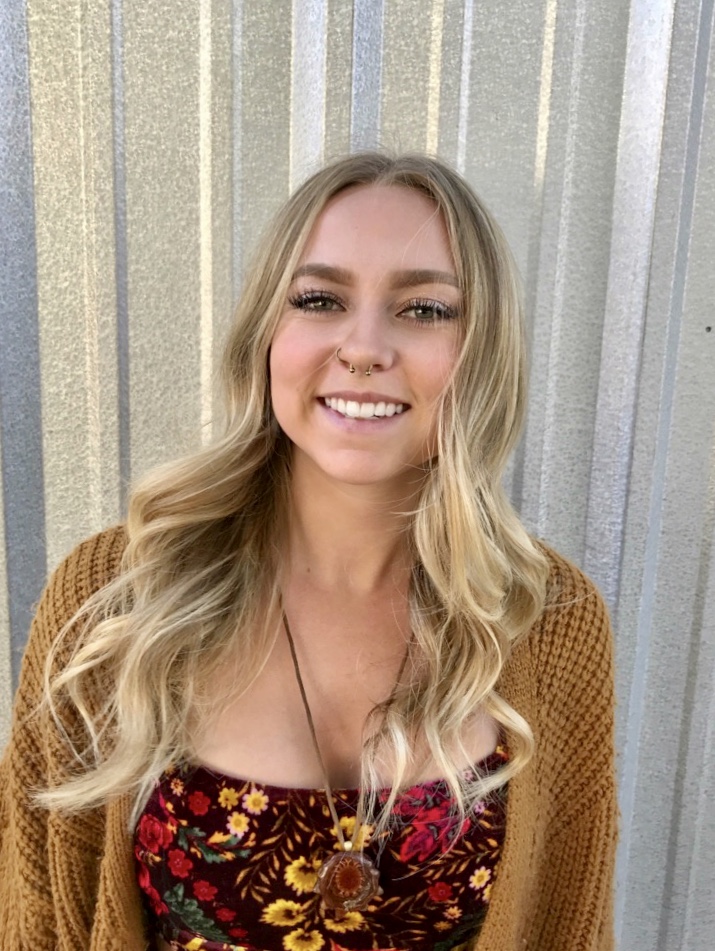 Alexa is a double major in food and nutrition science and psychology, with plans to earn a master's degree in food science. Her long term goal is to pursue a career as a natural product developer and flavor chemist.
Alexa became interested in this path of study and work out of her lifelong desire to make the world a healthier place for everyone. She has dedicated her education, career, and life reducing the negative effects of meat agriculture on our climate by developing the next generation of plant-based meat analogs.
From a very young age Alexa says that she was a freethinker; not inclined to follow the beliefs of others. She was naturally curious and scientifically-minded. She believes very strongly that people's personal religious and spiritual beliefs should not cross over into politics and the structure of society. This is the focus of her secular activism as well, shining the light of scientific facts and open inquiry in conversations where superstition abounds. This scholarship is sponsored by the Florida Humanist Association.
Emily | Troy University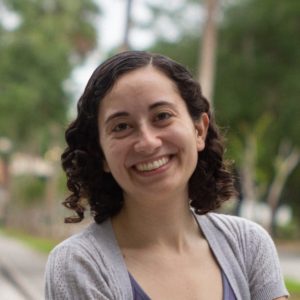 Pursuing a master's degree in clinical mental health counseling, Emily has been passionate about the intersection between mental health and social justice. After completing her bachelor's degree at the University of Pennsylvania, she worked with a variety of mental health and advocacy organizations, including as a case manager serving people who are facing incarceration due to mental health challenges, and as a peer support specialist at a mental health drop-in center.
Growing up Jewish and queer in Birmingham, Alabama, she experienced severe bullying throughout her teenage years, constantly being told that she was going to burn in hell and that she would never be forgiven for her "wrongdoings." Still, she did not fully conceptualize being secular as a central part of her identity until she started getting involved with mental health advocacy and education. It was then she learned about some of the serious effects of religious trauma on mental health.
In 2016, Emily formed a local grassroots group in Los Angeles to advocate for the civil rights of people with psychiatric disabilities and, for the past several years, has been deeply involved with organizing the Alternatives Conference, led by and for people with psychiatric disabilities. In 2017, she co-led a caucus at the conference for secular, humanist, and atheist folks with psychiatric disabilities and, this year, she co-founded the Wounded Healers Network, a digital space for clinical social workers and mental health professionals with psychiatric and other disabilities. This scholarship is sponsored by the Humanists of Sarasota Bay.
We are honored to work with amazing student leaders. We hope that you will join us in supporting secular students across the country. 
The application for the 2020 SSA Student Activist Scholarship opens on July 15, 2020.