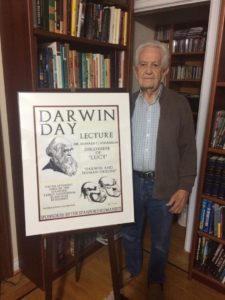 Darwin Day is a celebration to commemorate the birthday of Charles Darwin on February 12, 1809. The day is used to highlight Darwin's contributions to science and to promote science in general. Darwin Day is celebrated in communities around the world.
The first Darwin Day was organized by Robert Stephens (pictured, right, with the first original poster) and the Humanist Community of Palo Alto in 1995.
Get the Darwin Day Event Guide
Order FREE
tabling supplies
Register your Darwin Day event
Secure a Darwin Day Proclamation from your local government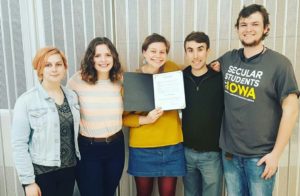 "What is a proclamation and why does it matter?
A proclamation is a public or official announcement, made by an elected official, on a matter of great importance. In this case your elected official would proclaim Feb 12 to be Darwin Day in their jurisdiction. This can bring much needed public attention to the historical and scientific importance of Charles Darwin and his discoveries.
Here is a step-by-step guide to getting your local government officials to make Darwin Day proclamation.
Will you ask your state's governor? Your city's mayor or city council? If you can get your governor to declare February 12 to be Darwin Day in  your state, that is ideal. But even a local declaration is a great accomplishment.

Contact the office of the elected official and set up an appointment. If an personal appointment isn't possible, say that you'd like to send a letter, so information about Darwin Day, and a sample proclamation for them to review. Let them know you'll follow up in a week.

Call back a week after they've received the information to ask if you can speak to them about issuing the proclamation.

Work with elected official to hold a signing ceremony and press conference.

Write a press release and contact press.
Contact your campus organizer with help on any of these steps.